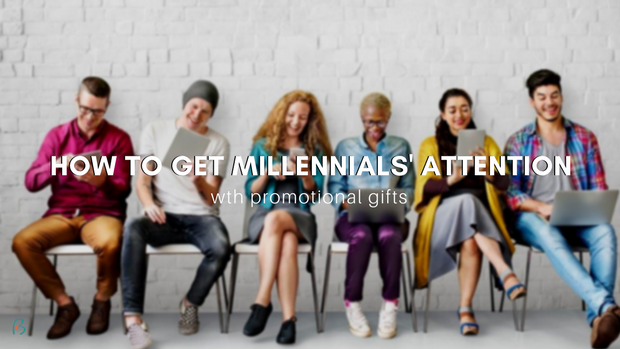 Over the past 10 years, marketers and advertisers, as well as consumer research firms have released hundreds of articles and studies that provide us with an idea of how the current biggest demographic decides on brands.
One of the most popular results of these studies is, "millennials don't buy into hard sell." This makes a lot of the traditional types of advertising almost moot but it hasn't stopped print and television from continuing to try. Another popular conclusion is that millennials value experiences and look for a purpose before engaging. These two demographic trends have led to a surplus of "story-driven" ads and immersive campaigns that are all aiming to maintain this particular generation's interest. Some have succeeded while others have crashed because as powerful buyers as they are, millennials are also very volatile when it comes to what they want to see or hear.
ENTER PROMOTIONAL PRODUCT MARKETING
Some would consider promotional product marketing traditional. It involves a lot of face time with clients and it's outside the realm of digital channels like social media, email marketing, or mobile apps. With the reach of traditional marketing slowly fading and being questioned by brands and other advertisers, it would be normal to ask the question, "Will promotional products be enough to catch millennials' attention?"
The short answer is YES.
Here's why:
Promotional gifts allow brands to create experiences (even on a budget).
Example: A real estate agent wants to show a young couple the neighborhood to close a sale. On top of giving clients a promotional pen and a branded notepad, the realtor adds a Michelin Guide to the best restaurants in the city with a note saying "Use this pen and notepad to write a story about your gastronomic adventure around your future neighborhood."
This gives personal experiences for clients and they can associate this with your business. No hard sell. No intrusions.
Promotional products can be associated with a purpose.
Example: A tech company wants to appease their environmentally conscious millennial clients about decreasing their carbon footprint. As a way to send a message, the brand gifts them and their employees with eco-friendly swag like BPA-free drinkware to reduce the use of paper/plastic cups, while simultaneously launching a new app.
It's a smart way to market a new product while sending a message of purpose which they can practice using your branded gift.
Promotional products build rapport and can urge genuine engagement.
Example: A new coffee shop just opened and are giving away canvas tote bags with an imprinted text that says, "Show this bag to our barista on your next visit & we'll put a small surprise inside."
This instantly urges your millennial customer to visit for a second time (because they do love their coffee and everyone likes free stuff) and then creates rapport with them because of the interaction bridged by a small token. Again, a meaningful experience with your brand which they will remember.
Promotional gifts are hard-working, highly customizable, and very accessible for marketers and brands. There are over a hundred ways to play with the products and add your brand's own touch to generate awareness and familiarity. Like all things marketing, it's all about strategy. But with the use of custom branded gifts, your business is guaranteed to more likely get conversions and gain customer loyalty.
Let's start engaging with your millennial audience. Contact us or follow us on Facebook, Twitter, Instagram, & Pinterest.