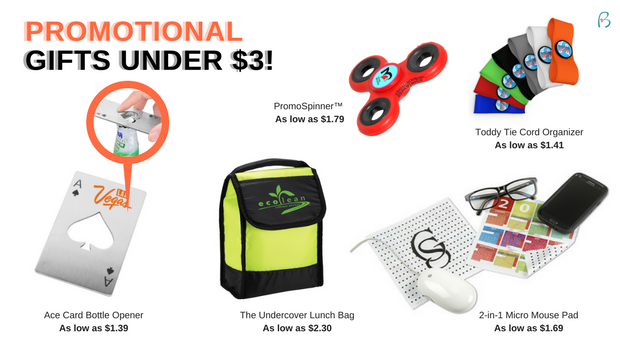 Missed out picks last week for gifts under $3? We've got a new set of awesome promotional gifts that are great finds and won't break the bank.
Here is our new set of top picks for the week:
Ace Card Bottle Opener – Get poppin' with clients with this unique bottle opener. Use the cleverly crafted hole in the center shaped like a spade to open beer and soda bottles. Imprint your logo and you're all set.
The Undercover Lunch Bag – Lunch is served! This lunch bag folds down for easy storage and is insulated to keep food fresh. More importantly, the bright color will make your brand stand out
Toddy Tie – No more messy cords in pockets or travel bags. Toddy Ties eliminate the tangled mess cords make, simply wrap the cord around four fingers and insert it into the Toddy Tie, snap and done! Add your logo to stay in your client's line of vision.
PromoSpinner™ – This spinner is made of ABS plastic with Turbo-Boost™ Inserts for longer spinning experience. An executive fidget toy and stress reliever that clients or employees will love.
2-in-1 Micro Mouse Pad – Let this 2-in-1 micro mouse pad be an item that shows off your brand in a bold way! Not only does it work as a place for your mouse to move and rest, but it also works as a microfiber cleaning cloth. Wipe it across the screens of your smartphones and tablets to get a smudge and fingerprint-free display. This item features a textured silicone grip on the backside.
Contact us or Follow us on Facebook, Twitter, Instagram, & Pinterest.