Every little gift counts and it's true that it's often the thought that leaves a lasting impression. This coming holiday, fill up your team's stockings with small tokens of appreciation to celebrate the season of giving. Giving small but thoughtful gifts is always appreciated by employees especially for big businesses who have a large number of team members. The key is to find unique, useful, and well-thought out custom gifts which they can use or enjoy during when they're not working.
We've curated several custom branded gifts that are under $3 but are certainly great finds for the holidays.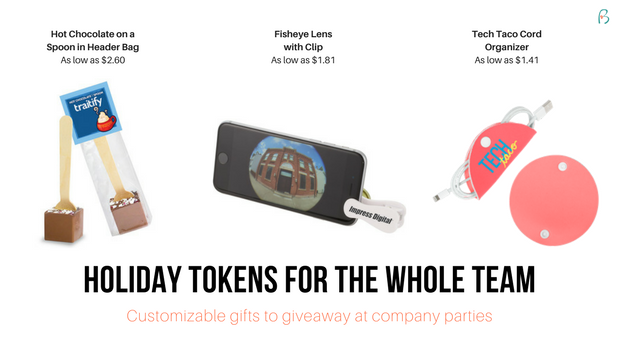 Hot Chocolate on a Spoon in Header Bag
Make everything warm and fuzzy with a sweet cup of hot chocolate! It's an instant sweet treat your customers and VIPs can enjoy on a chilly morning or as a midnight beverage. Just insert in hot milk, water, or coffee and stir!
Clip the Fisheye Lens over your smartphone camera lens to get images with a different perspective of 180-degrees. Your shutter bug employees will love this easy-to-use phone accessory.
The Tech Taco is exactly what it sounds like; a taco for your technologies! It's an organizational tool that will help keep your cords and cables in order. Fold it around your bundled cords like a taco shell, snap, and you're on your merry way.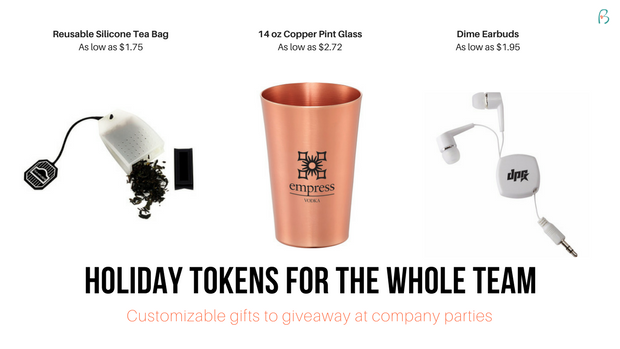 Why not give your tea-loving staff a gift that keeps on giving with this reusable silicone tea bag! It holds loose tea and is dishwasher safe, allowing for multiple uses. No longer will they have to create so much trash discarding their old tea bags. It's eco friendly and useful for every day.
This BPA-free chic pint glass is a unique find. They can use it in the office or enjoy their fave brew at home using these fabulous custom drinkware.
This retractable 30-inch earbud is compatible with almost all devices. This means your employees won't be hassled by knotted cords because this nifty gifts takes care of that! Choose from three different colors to match your brand style.
Let's get started with your holiday tokens for employees. Contact us or Follow us on Facebook, Twitter, Instagram, & Pinterest.