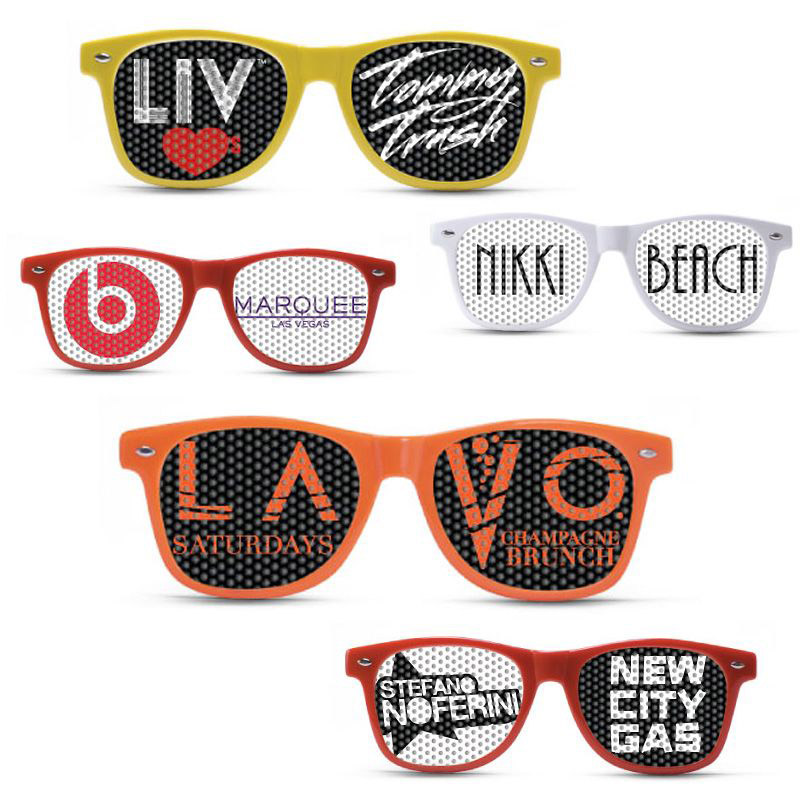 Known as one of the coolest promotional gifts for summer & music events – The Custom Printed Pinhole Sunglasses
Make your branding really stand out this summer (or pretty much any other season of the year) with these custom pinhole sunglasses. You can customize the lenses with your one-way logo or message. Customize even further by imprinting on frame – great for adding sponsor logos or event messaging. You can even have them transition into fun evening spectacles with new glow in the dark frame colors such as blue, yellow and green.
Order this stylish pinhole sunglasses with a personalized logo on it. Put your logo on the glass and print a message on the frame.
If you need something a bit simpler, these basic black pinhole logo billboard sunglasses offer an inexpensive alternative. Print your logo on one lens, in one color and get them shipped within just 48 hours!
Custom pinhole logo sunglasses are perfect for outdoor events, fun on the beach, charity fundraisers, trade shows, company picnics, promotional giveaways, sports events and more.
Purchase with a Purpose: BRAND SPIRIT IS A CHAMPION FOR THE UNITED NATION FOUNDATION'S SHOT@LIFE. EVERY $100 WORTH OF SALES FROM ALL THESE ITEMS MEANS WE DONATE 1 VACCINE TO A CHILD IN NEED.
No time to shop? We'll shop for you and find the perfect custom gift for your project. Find us on Facebook, Twitter, Instagram, & Pinterest or email us at info@brandspirit.com.