Coffee in not just a daily need for a lot of people but the industry itself has become a cultural and lifestyle element where consumers themselves are creating content to showcase their own take on how to enjoy a nice cup of coffee. As a brand, one should see the opportunity and potential of getting your name out there through the use of this beverage and all the wonders that come with it.
Giving customers a chance to have their own personal experience with their coffee while promoting your brand is an easy and high-engagement campaign. This is especially an obvious choice for cafes, restaurants, and artisan coffee shops.
We've put together these personal coffee-making kits so your customers can enjoy a nice cup on at home, in the office, and even the outdoors while you market your business.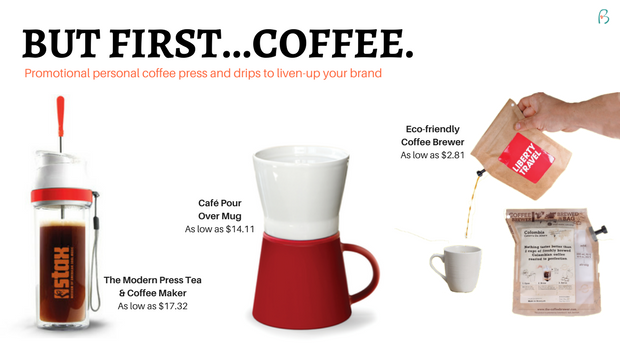 The Modern Press Tea & Coffee Maker
This perfect executive business gift or employee incentive product is unique, useful, and the ultimate coffee/tea lover's wish list treat. Enjoy a delicious cup of freshly brewed coffee or tea, anywhere you go.This sleek drinkware-brewer hybrid features a glass interior and a transparent acrylic exterior that provides easy customization for your brand. It's dishwasher safe, lightweight, and comes in red, green, grey, or blue. It gives you up to 16 oz. of your fave brew.
Present this simple but premium business gift to clients or surprise top performing employees with this chic pour over coffee mug. It's the Zen coffee experience. Fine tune your coffee experience with this customizable pour over mug. This minimalist approach to coffee unlocks the delicate aroma of your favorite coffee blend. Incorporate a meditative moment in your day while your coffee "blooms" before your eyes. Glossy finish on high quality ceramic coffee mug.
This coffee brewer offers coffee lovers the freedom to enjoy a gourmet cup during a busy day. It has the quality and rich taste of pour-over filter and french press coffee, with the convenience of instant coffee. Just add hot water to the pouch to brew 2 cups of coffee in 5 minutes. If you want your coffee stronger, just pour less water in and let it brew for longer. For milder coffee pour in more water and let it brew for a shorter time. The coffee brewer can be also be reused and is the perfect means to promote your own beans!
Let's get started with your holiday tokens for employees. Contact us or Follow us on Facebook, Twitter, Instagram, & Pinterest.