We can all learn from Starbucks. They made collecting stickers a premium experience for customers and they've found an effective tool for repeat sales during the holidays on top of their other offers.
If you're a start-up cafe and are looking to gain more awareness while increasing sales, running an incentive program for a month or so should be one of the strategies to explore. The coffee giant has perfected their program and other businesses have been following suit with their own spin on the mechanics of each incentive program.
Add a few twists to your incentive program other than the usual "buy X number of stuff to get Y." Get creative and think of it as an experience for your customer. Perhaps instead of getting points for buying a product for themselves, why grant points when they buy something for a friend while in the store? It's important to know your demographic and research on what they care about.
As a cafe, travel tumblers would make the perfect incentive gifts to entice product purchase but also put your business name on something people use everyday and an item them will keep for a long time.
Here are a few unique customizable drinkware your cafe might use as an incentive gift.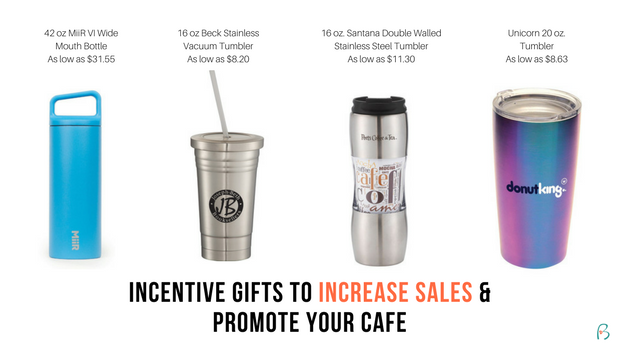 42 oz MiiR VI Wide Mouth Bottle
The perfect every day bottle, built for people on the go. With 3 sizes in the Wide Mouth line, the biggest or smallest thirst is covered. Built with Thermo 3D™ Double Wall Vacuum Insulation these bottles keep the drink you're enjoying hot or cold for hours on end.
16 oz Beck Stainless Vacuum Tumbler
Add a little metallic detail with this awesome tumbler with straw. It's made of stainless steel with stainless steel liner. Double-wall construction, vacuum insulated to keep drinks hot for 5 hours and cold for 15 hours. Screw-on stainless lid. Straw included.
16 oz. Santana Double Walled Stainless Steel Tumbler
The Santana 16 oz. double walled stainless steel tumbler allows you to get creative! The clear acrylic window offers you an opportunity to showcase your custom design with paper inserts. Ideal for tourist gift shops, it also makes a great corporate "thank you" gift. What a fitting addition to incentive programs or fundraising prize selections.
Got a younger customer demographic? They'll love this magical-looking tumbler! This drinkware holds ice for up to 24 hours and keeps hot beverages HOT. Comes with a convenient clear lid with a drip-free seal. Accommodates up to 3 coffee cups.
Follow us on Facebook, Twitter, Instagram, & Pinterest for more holiday gift ideas for your brand.