Every year there are a handful of super cool new gadgets introduced to the promotional products marketplace that we get really excited about. This year one of those new products are the new wireless earbuds that fit into both ears, allowing you to listen to music or make and receive calls. Any executive would be thrilled to receive such a useful tech gift and you can be one to delight your clients with a set of their own. Featured here are a few of the new wireless earbud sets available to customize with your logo.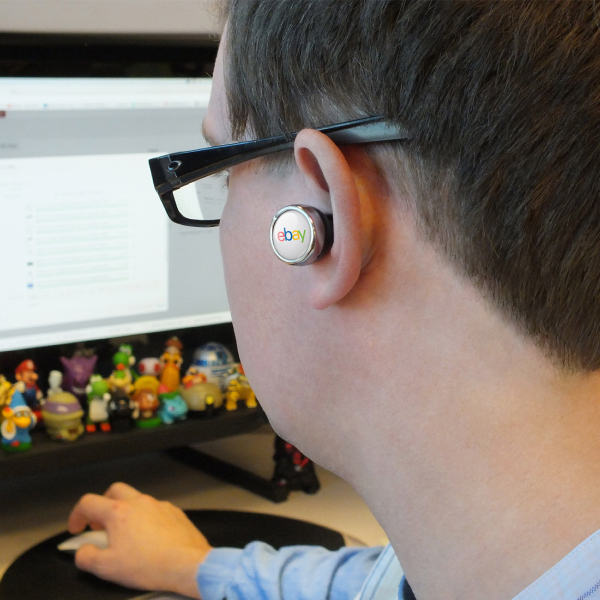 The ATOM is one of the smallest wireless earbuds in the world! Listen to music, make and receive phone calls with the built-in microphone! Looks similar to standard earbuds, but it's a headset too. Full color Fireglaze graphics is the control button. The button will power ATOM on/off, play/pause, activate voice control and Siri. Music time: up to 3.5 hours, talk time 4 hours; standby time 40 hours; charge time 1 hour.
While the single Atom Earbud was release in 2016, the new ATOM Fusion featuring a pair of these earbuds is new for 2017. It has all the same great functionality of the single earbud but comes in a set of two. While there is a thin wire connecting the two earbuds in this Atom Fusion set, there are some notable benefits to the wire. First, it brings down the product cost a bit and second, the wire makes it easy to hang the earbuds around your neck when not in use.
Any of these wireless Bluetooth earbuds would be ideal for use as business gifts, premiums, incentives and new employee welcome gifts. It would also be a good idea to give these to any employees that drive during the course of their workday or work in large spaces such as warehouses.
Purchase with a Purpose: BRAND SPIRIT IS A CHAMPION FOR THE UNITED NATION FOUNDATION'S SHOT@LIFE. EVERY $100 WORTH OF SALES FROM ALL THESE ITEMS MEANS WE DONATE 1 VACCINE TO A CHILD IN NEED.
No time to shop? We'll shop for you and find the perfect custom gift for your project. Find us on Facebook, Twitter, Instagram, & Pinterest or email us at info@brandspirit.com.