Marriott Fremont Hotel Delights VIP Guests with Premium Gifts
Our client needed customized gifts to present to their top guests and Brand Spirit was there to provide them with branded padfolios, fun fidget cubes & spinners, and sleek vacuum thermoses. Read more.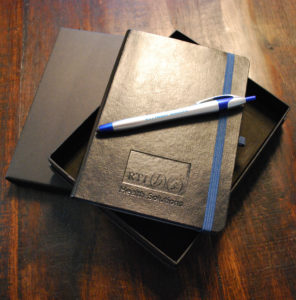 Surprise Employee Appreciation Gift for an Awesome Year
One of our clients recently ordered a beautiful custom journal with stylus pen set and surprised their whole team to show everyone just how much all their hard work is appreciated. Read more.
Fun Swag from Integrity Plus Pipeline Institute
Integrity Plus needed fidget spinners for their open classroom on-boarding session: Pipeline Fundamentals Orientation to keep attendees engaged, and provide a fun session break activity. Read more.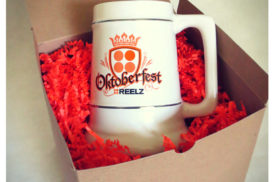 REELZ Channel Gives Party-goers An Unforgettable Experience
What do you get when you mix an Octoberfest-themed party with the upfronts in April? Read more.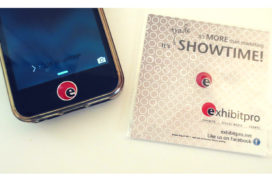 Cool Swag To Communicate New Tagline
Exhibitpro, a state of the art exhibit production company, was looking for giveaway ideas to promote the theme of their new tagline. Read more.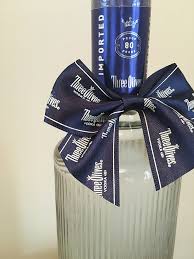 Spirit Brand Boosts Awareness With Custom Bottle Bows
In the highly competitive liquor brand space, it's not always easy to stand out from all the other brands. Read more.
Cool California Vibes Delivered At Nasdaq Conference
The client's desire was to create a set of branded gifts that would be fitting for giveaways in pool/cabana setting, as well as tie in with the California theme. Read more.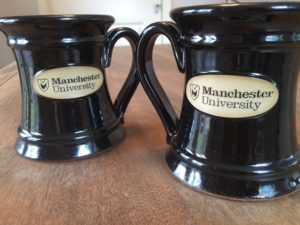 Manchester University Handcrafted Mugs
The goal was to instill pride in the University by giving students something they could keep at their desk or proudly display once they graduate. Read more.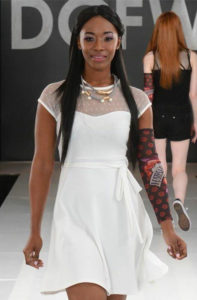 Custom Tattoo Sleeves Rock The Rosies & Rockers Runway Show
When Rosies & Rockers, a "rockstar chic" clothing boutique in Washington, DC needed custom tattoo sleeves designed & delivered in just a few weeks, they turned to Brand Spirit. Read more.