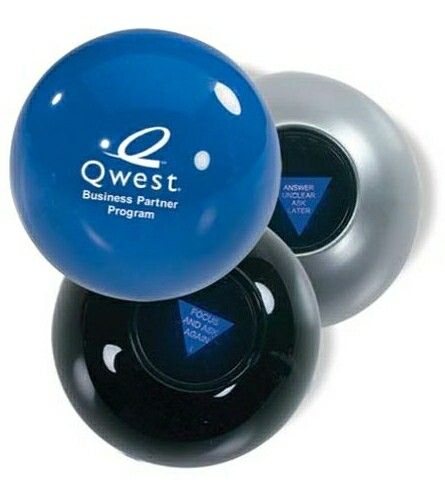 Sometimes we don't have all the answers to the hard questions in life. In times like this, wouldn't it be great to have someone or something to call on who would give you instant answers?
Enter the custom branded Magic 8 Ball.  With 20 brilliant answers such "Absolutely," "Chances Aren't Good" and "Looks Like A Yes", burning questions will never go unanswered again.
There are many ways to work these fun promotional magic 8 balls into your marketing message such as:
"Get all your answers in one place."
"Providing the answers to your toughest (insert here) questions."
"Count on us for all the answers to your (insert here) questions."
The 2.75″ Magic Answer Ball is available in silver, black and blue.  It includes a 1 color custom logo as low as $3.55 each.
A black 4″ Magic 8 Ball is also available in bulk orders as low as 50 units.  It includes a custom printed logo and is priced from $5.85 – $5.99.
Completely custom magic 8 balls are also available in custom colors and with custom messages for as little as 1,000 units.  You can submit a quote request here.