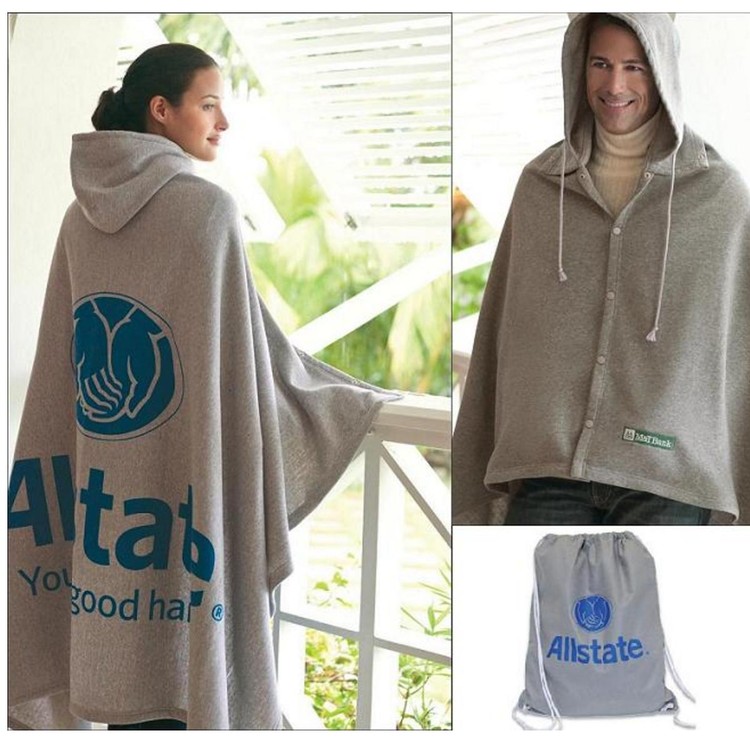 These customized hooded fleece poncho blankets make excellent gifts or premium items.  Businesses in need of a branded gift that will be coveted by sports fans need not look any further than this hooded blanket.
For all those Shark Tank fans out there, this innovative product reminds us of the episode featuring the "Swilt", which was a combination of a sweatshirt and a quilt.  If that product was a Swilt, then this would be more of a "Planket (poncho + blanket).
It also comes with a backpack for easy, clean transportation to the game, as well as functions as storage.
Your company branding or logo can be featured in one of two ways on this custom logo'd hooded blanket jacket.  Businesses looking to make a bold statement at the stadium can choose extra large silk screen printing on the back.  Or for a more subtle look, a smaller, embroidered logo is also an option.
Click here to view additional product information.