School's back and so are the wide-eyed and bushy-tailed students all across the country. It's also time to get more attention to your brand by giving away the perfect set of swag items for this demographic.
We've got some fresh promotional product recommendations your customers will dig. These branded merchandize aren't just super cool but they're definitely everyday items students can use the whole year round.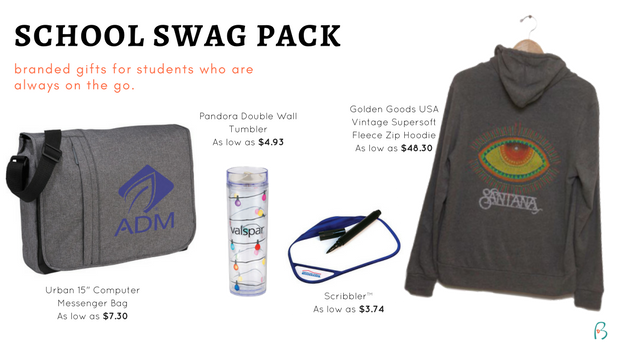 Giveaway the perfect messenger bag to carry their books and computer like the URBAN COMPUTER MESSENGER. It has a padded sleeve big enough to carry a 15″ laptop plus a few more books. Imprint your logo at the front of the poly canvas material.
Students need their caffeine and what better way to hydrate them than with cute, double walled acrylic travel tumbler like the PANDORA TUMBLER. Your brand can do a complete design of the tumbler using your own graphics. It's spill proof, dishwasher safe, and great for hot or cold brews.
The SCRIBBLER is a great way to save on paper because it's like a travel-sized white board. Do maths problems or doodle on this cool promotional gift that also has an adhesive at the back that allows you to stick it on any flat surface. Flexibility allows it to conform to curved surfaces to go where other whiteboards can't. Includes bold dry-erase marker with convenient eraser cap.
Finally, what student wouldn't love a good 'ol comfy reliable hoodie. The GOLDEN GOOD USA VINTAGE SUPERSOFT FLEECE is snug, stylish, and will be used for a long time, which makes it a great marketing investment for any brand. This flattering slim-fit item, is made from a deep-pile polycotton fleece and garment-washed with the trademark butterwash in unisex style. Just add your logo to personalize.
Is your brand ready for the school year?
Let's connect! Follow us on Facebook, Twitter, Instagram, & Pinterest.