Customize and give away these promotional wireless earbuds to customers on your next brand campaign. If you're a fitness brand looking to engage more sign-ups for membership, or if you're a startup looking to reward the team, these could make the perfect gift.
We've put together our current top favorite wireless earphones from the website. These totally cool and well-designed branded merchandize will certainly grab your customer's attention and put you just within an earshot.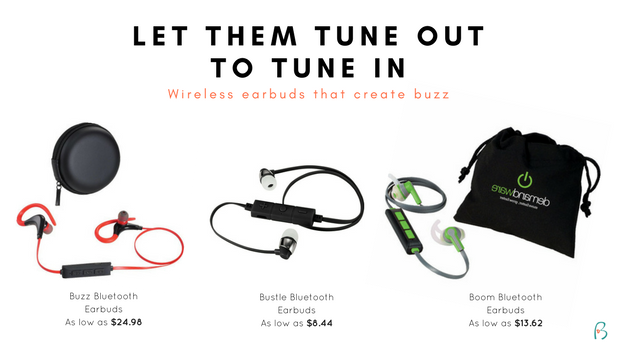 Lose the wire but keep the sound quality of your favorite earbuds. The BUZZ BLUETOOTH EARBUDS connect wirelessly to any compatible device up to 33 feet. The flexible ear hooks make these earbuds perfect for working out. Plus they feature a built in control function which allows you to take calls and control the music. Add your logo on the case and the earbud piece.
The BUSTLE BLUETOOTH EARBUDS is a less pricey option but just as fabulous. It has internal rechargeable battery that provides up to 2 hours of nonstop music at max volume. The earbuds feature a built in music control and mic.
The BOOM BLUETOOTH EARBUDS WITH MICROFIBER POUCH bring pristine sound to your ears on the go, or in transit to work. A built-in mic allows you to take and make calls, and the music controls allow you to change the song with the touch of a button. A comfortable design lets the earbud sit perfectly on the inside of your ear, and the bluetooth working range is 33 feet.
You can find more of these wonderful promotional earphones and other business gifts from the website.
Let's connect! Follow us on Facebook, Twitter, Instagram, & Pinterest.