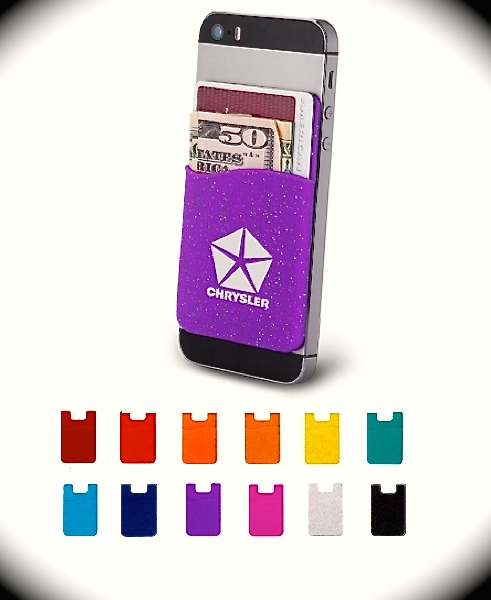 Are you looking for an in-demand promotional item that will stand out? Since, we're living in a smartphone decade where you can do all things with your phone, isn't it a shame that most stores don't accept virtual payments? No worries, here is the solution: a promotional cell phone wallet. Not only is this promotional item in-demand, your brand will stand out from the crowd.
Our silicone glitter wallet with 3M adhesive sticks to the back of most smart phones. Perfect for work, a night on the town, or sporting events, when all you need is a Driver's License and debit, credit card or cash, not your entire wallet or purse.
The custom promotional

Glitter iWallet Silicone Phone Wallet Pocket

securely holds up to 3 credit cards, a drivers license or business cards.
This promotional item is great to protect against identity theft. It is also good for hotel keys and will not deactivate the strip. Credit cards will be protected from deactivation on phone. It is also good for hotel keys and will not deactivate the strip.
This iWallet is an ideal product for iPhone users. United States have the highest number of iPhone users are this is a perfect gift you can give them and it will never go unused.
Even when not in use, the silicone helps make your phone easier to grip and prevents it from sliding on smooth surfaces. It also provides low-level protection against data theft from smart cards.
This nifty Glitter iWallet Silicone Phone Wallet Pocket is very useful for people who love efficiency.
And let's not just consider the usefulness of this promotional item, but also it's visibility cell phones are in our society and the image-to-visual-cortex potential – or simply said, get your company's logo seen a lot.
Click here to learn more.