Custom tote bags make the perfect giveaway for any business or event. They're a must-have for conventions and trade shows; and retail shops have taken advantage of their practicality and ease of use to get their name out there. We've seen them at book stores, clothing boutiques, artisan shops, and large department stores.
With so many types of tote bags out there, it certainly helps to choose one that goes the extra mile to get noticed. It also helps to choose promotional tote bags that are sturdy so customers can keep using them and taking your brand with them everywhere.
Here are four tote bags we are currently in love with: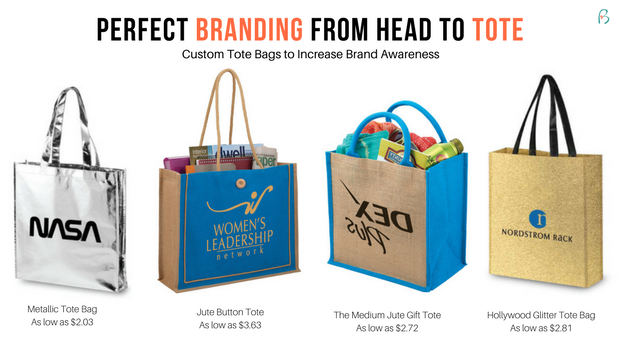 Metallic Tote Bag – Make a shimmering addition to the next promotional events by handing out this metallic tote bag! This dazzling designer bag is made from non-woven polypropylene with metallic lamination, which provides additional structure, strength and durability.
Jute Button Tote – Looking for something bigger and sturdy? You'll love the Jute Button Tote. It's made from recycled woven material with a 26″ handle so they can carry it on their shoulders. The wide open compartment makes it a perfect tote for corporate conventions and trade shows.
Medium Jute Tote – It's a smaller version of the Jute Button bag with a shorter but thicker handle. This would be perfect for groceries and artisan shops that usually offer bulkier and heavier items.
Hollywood Glitter Tote – If you're looking to make a sparkling addition to your next promotional campaign, this Hollywood glitter tote bag will do the trick! It's great for product launches, press kits, and other retail promotions. You can also use this as a gift bag for company events.
Follow us on Facebook, Twitter, Instagram, &  Pinterest for more holiday gift ideas for your brand.