Candles make delightful gifts for the holidays. Real estate agents have used candles as client gifts when they close a sale, and they are are also popular executive business gifts for VIPs. If course, there are thousands of candles you can customize and giveaway, which means the important thing to keep in mind is to find something unique and high value.
Here are three unique candles you and your clients will love personalizing and gifting for the holidays.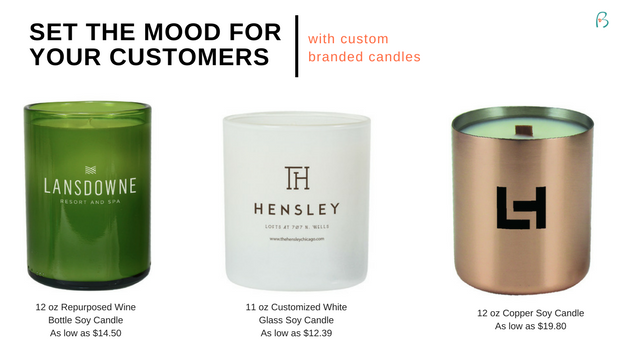 12 oz Repurposed Wine Bottle Soy Candle
A unique candle that makes an eco-statement! Our 12 ounce wine bottle soy candle is made from a green repurposed wine bottle, hand poured with 100% soy wax, scented with one of our many wonderful fragrances and packaged in a high quality two-piece black gift box. A perfect giveaway for executives, hospitality, beverage industry, entertainment clients. It comes in a beautiful box you can further customize.
11 oz Customized White Glass Soy Candle
For those looking for a high end retail look, this customized contemporary white 11 oz scented soy candle is perfect! The candle comes in many beautiful scents and full color bellyband featuring your customized artwork and design surrounding a tuck gift box. Add a card for a personal touch.
This stunning 12 oz copper vessel is hand poured locally from natural, clean burning soy wax. Each candle features a wooden wick, and is infused with a hint of the finest fragrance. The metallic finish adds a pop of chic glimmer to any room.
Let's get started with your holiday premium gifts shall we? Contact us or Follow us on Facebook, Twitter, Instagram, & Pinterest.