Craft beer and breweries are booming across the US. With millennials getting in on the action with fresh ideas combined with old school brewing techniques, the standard for a good pint of has been raised. Packaging and branding is everything when it comes to offering any craft product. Just because your business is just starting out, it doesn't mean your packaging has to look homemade.
There are now great ways to bottle and package your brews. Send samples or give awesome giveaways using custom branded growlers.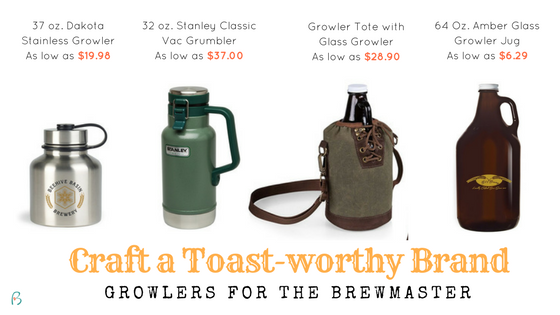 Give them a small sample using the DAKOTA STAINLESS STEEL GROWLER. It's perfect for enjoying cold craft beverages and customers will love that it's reusable, travel-size and dishwasher safe. Add your logo via imprint or laser engraving.
The vintage look of the STANLEY VACUUM GRUMBLER is a novelty feature your customers will love. The handle makes it easy to swig your smooth, cold brew and it keeps beer cold for 14 hours! Nothing more enjoyable than a cold batch! Imprint good to know details about your product to fully customize the growler.
If you're looking for an added value to a custom growler, check out the GROWLER TOTE that also comes with a glass jug. Embroider your logo on the tote and imprint on the bottle. Customers will love the cool and convenient bag they can use for other items after enjoying your brew.
Go classic with an AMBER GLASS GROWLER jar. Market your moonshine with this fail-safe bottle they can drink straight from. It's a more affordable option if you're planning to make a big batch.
Happy brewing and keep sharing the brand love!