Nothing says "We're glad to have you on our team" than a thoughtful, cool welcome kit for your newbie's first day. It instantly breaks the ice and it's a sure way to pep them up about their new and exciting career in your company.
Planning to put together an employee welcome kit? We have these suggestions you'll love.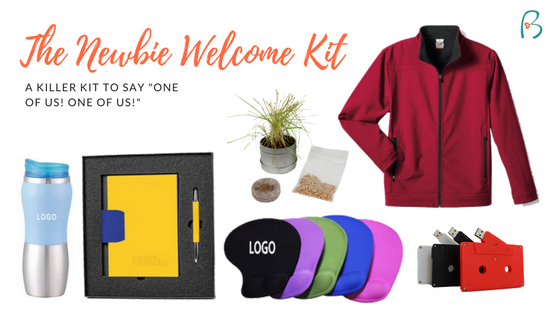 Work means fueling your team with caffeine and basically any type of beverage to help them be productive workers throughout the day. The stainless steel mug with your company's logo is the perfect drinkware to keep them hydrated.
They'll also be taking lots of notes during meetings and when they're feeling a little extra creative, make sure they have the perfect customized notepad so they don't miss a thing! One of your brand's next best idea could be there. And if it's a digital file, you gotta make sure they have their own thumb drive that's both fun and maybe a little novel to show them your business knows how to have fun too!
You also need to make sure their hands and arms aren't too strained from clicking that mouse all day. An ergonomic mouse pad with your bran's logo and maybe some encouraging quotes is a good addition to the kit.
Dress up their desk or cubicle with some greens. A desktop indoor plant makes a perfect decor for their work stations because it's relaxing and it's nice to have something they can grow. Wrap it up with a nice, branded jacket embroidered or printed with your logo to keep them warm and dry.
Make their first day special and give employees the right impression. The little gifts speak volumes about your brand's culture.