Like they say in real estate, "Location! Location! Location!"
Get your brand the exposure it needs with eye-catching, creative prints you can insert in promotional tumblers. These fabulous drinkware are the perfect spot for your logo to chill on top of your brand's tagline and graphics.
We've put together some of the latest promotional tumblers that gives the opportunity for your brand to showcase its creativity and key messaging to a wide audience.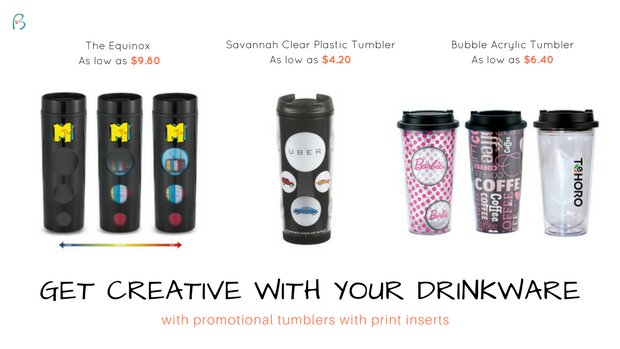 THE EQUINOX – The Equinox Heat 16 oz. double walled acrylic tumbler features a spill resistant lid and 3 inset bubbles where you can place your brand's custom design. When hot liquid is poured in, all three designs become visible. Pull to open the lid then push it closed for ease of use. This would be a good gift for gift shops as well as co-branding opportunities. It also makes a great corporate "thank you" gift.
SAVANNAH TUMBLER – Show your brand's style and versatility with the 16 oz. Savannah clear plastic tumbler with insert options for customization. It's a great way for your customers to travel thanks to the drink through lid that also functions as a carry handle. Simply pull up the ring for portability or push it down to keep it closed. You can add a full insert or simply imprint your logo on the tumbler's surface.
BUBBLE TUMBLER – If you want to brew up new business during the next campaign, look no further than this 16 oz. double-wall acrylic tumbler! This handy travel mug features 12 two-dimensional raised bubble decals in various sizes, as well as a screw-on, spill-resistant flip-top lid, making it perfect for on-the-go use. It is made of BPA-free material and is ideal for co-branding opportunities or for customers with multiple product lines.
Time to get your brand seen. Contact us or follow us on Facebook, Twitter, Instagram, & Pinterest.