Puzzle games and tactile learning toys are making a comeback and it's not just for kids. Teens and adults have been seen playing with these brain-teasing toys over the past couple of years.
Research has proven that regular brain exercise using "gamified" tools like puzzles provide cognitive and emotional benefits for adults. Benefits include:
Enhanced memory
Accelerated ingenuity
Supports the entire thought process
Production of dopamine (happy hormones)
Relaxation & meditation
Puzzle manufacturers have been coming up with more variations and level of challenges for puzzles and they've also combined it with a greater consciousness for the use of sustainable, non-toxic materials. The puzzles below are some of the latest and trendiest promotional puzzle toys making the rounds in trade shows and work desks everywhere.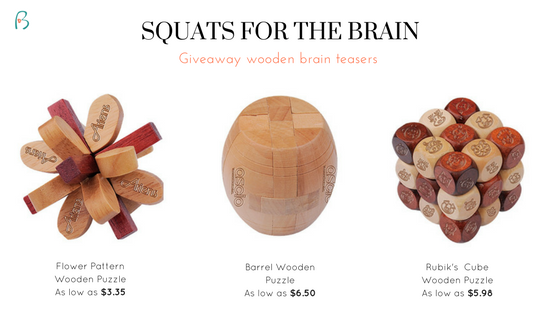 Add the FLOWER PATTERN WOODEN PUZZLE to your employees' collection of desktop toys in the office. They're pretty, eco-friendly, and challenging. This 9-piece puzzle has 24 locations for your to imprint your logo.
When placed on a desk or in a conference room, the fun RUBIK'S CUBE WOODEN PUZZLE can't be left alone and begs to be played with and solved. The wood material is eco-friendly and it has 54 imprint locations. Your brand will be on the top of users' minds as they work through this fun challenge.
The BARREL PUZZLE has 11 pieces to take apart and put together. Customize by imprinting your logo in 4 locations. Like the other puzzles, it's made of eco-friendly recycled wood for sustainability.
Your customers and team will be setting their own record time in solving these fun toys in no time. Keep sharing the brand love!