Trade show booths, specialty stores, and artisan boutiques have been using tote bags as a creative way to promote their business and contribute to eco-friendly causes. Not only are these promotional merchandize helping save the environment, but they are also fabulous marketing real estate for a brand.
Get more awareness and win more customers by giving away custom designed tote bags. We've gathered a handful of premium, quality shopping and everyday totes to help share the brand love.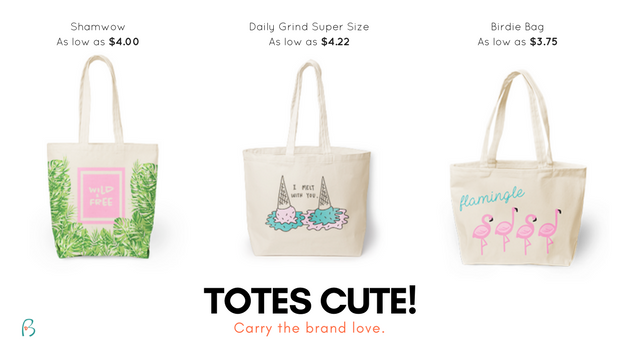 The SHAMWOW is made from cotton canvas material that's tough and easy to imprint. It's long strap makes it easy to carry on the shoulders that can even go nicely with a casual outfit for a trip to the farmer's market.
Looking for a larger tote bag? Get the DAILY GRIND TOTE. This is the classic, the champ, the tote that will get you through it all but even bigger! It'll be here for you when you just need some snacks and a light sweater and it'll be here when you have fifteen magazines and two books and a clipboard. It's a workhorse.
Add some quirk with the BIRDIE BAG. With a sizeable gusset, this tote can handle just about anything! And we made the gussets exterior gussets to make it stand out among all the other totes out there. Groceries or library books or beach supplies, it's quite the versatile tote.
Ready, set, tote!
Let's connect! Follow us on Facebook, Twitter, Instagram, & Pinterest.