A quick hike or a weekend spent camping does wonders for our highly stressful lives. With the greater need to strike a balance between work and life, giving gifts that help customers achieve this sends the right message to the people who matter to your business.
On top of great functionality, this collection of stainless steel, insulated drinkware's design in good enough to be used not only for outdoors but also for service at breweries, cafes, and restaurants.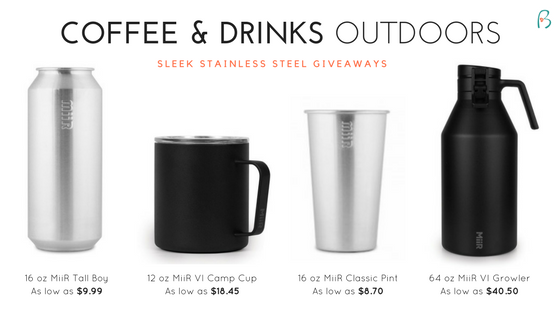 The 16 OZ MIIR TALL BOY is the perfect reusable beer can. A take on the classic can is the reusable, stainless steel Tall Boy. We don't recommend crushing this one on your head. Customize my imprinting your logo on your preferred location.
Enjoy the campfire while sipping on hot cocoa with the 12 OZ MIIR VI CAMPFIRE CUP. Its's double walled so your hands don't get burned. Your daily coffee cup will make you the envy of the basecamp or office.
Cup, vase, snack stash, fort for ants, this pint dominates whatever task you assign it. Customize and giveaway the 16 OZ MIIR CLASSIC PINT to all your favorite people in the business.
The 64 OZ MIIR VI GROWLER has all the features of the classic growler plus a buckle lid that locks in place when open and a handle for easy carrying on the walk home from the brewery. This four-pint growler gives you everything you would expect from our heritage growler and a couple of convenient additions.
PURCHASE WITH A PURPOSE
And did you know every $100 purchase from brandspirit.com means giving 1 vaccine for a child in need? This charitable project is our continuous effort to help children in developing countries by sending vaccines they need to live healthier, happier lives.