People take an average of 8 photos a day using their smartphones. There are also many phone photography enthusiasts who take beautiful and interesting photos with just their mobile device. If your business is targeting a highly creative, young, and tech-savvy market, it's important that your brand also taps into these interests with the types of incentives programs you are running.
We've put together a complete phone photography gift set with products you can fully brand and customize to fit your business' style.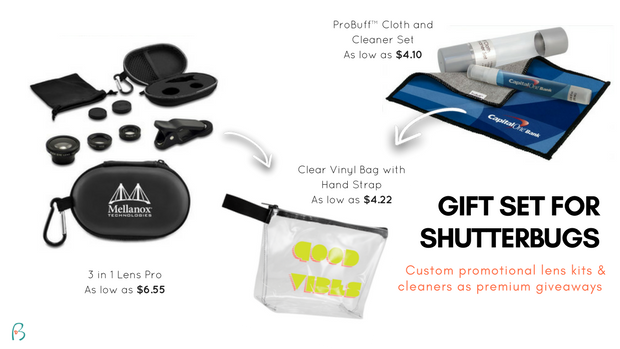 Add your logo on the case and the lens clip. With the 3 in 1 lens pro kit you don't have to be a professional photographer to take amazing photos. The 3 in 1 lens pro kit is everything you need to convert your smartphone or tablet into a high functioning camera to capture breathtaking photos. The 3 in 1 is portable and light weight. The 3 in 1 lens kit includes 3 different types of high quality optical glass lenses that fit perfectly for your mobile device or tablet: macro lens, wide angle lens and the fish eye lens. The kit also includes protective lens caps and a drawstring bag.
Keep their camera lens clean as well as the their phone screens with this cleaning kit complete with cloth case. Customize the spray bottle, the cloth, and the casing so they never forget your brand. This cleaner also works on TVs and computer monitors.
CLEAR VYNIL BAG WITH HAND STRAP
Give them a cute bag to organize all of these promotional items. This totally cute and customizable transparent bag can also be used for other little things like make-up, cords, pens, and even toiletries.
Keep sharing the brand love!
Let's connect! Follow us on Facebook, Twitter, Instagram, & Pinterest.