Looking for promotional gift ideas for your next marketing campaign? These fantastic phone holders are just some of the latest and hottest items you can customize and giveaway.
These gift recommendations are cheap, easily customizable, and quite useful. Customers are more likely to remember their interaction with brands with custom branded merchandize (because who doesn't love free stuff, right?)
With tech and gadget-based gifts on high demand, these promotional phone stands are sure to put a smile on people's face at trade shows and other events. You can also send these to the whole staff as employee swag for a job well done.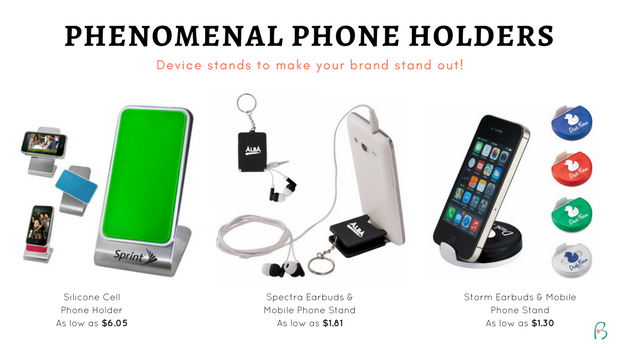 The SILICONE CELL PHONE HOLDER makes a great addition to your swag bag. It's made of stainless steel and designed for hands-free media viewing or just keeping your phone at a comfortable viewing position. Adjust the angle to help minimize glare for watching movies or while scrolling through Facebook.
Add a bonus earbud and earbud organizer with your custom branded phone stand. The pocket-sized SPECTRA EARBUDS & MOBILE PHONE STAND allows you to imprint your logo on the plastic case/stand. Choose from four different colors to match your branding.
The STORM EARBUDS PHONE STAND also doubles as an earbud case/organizer. It's made of plastic and comes in 5 lovely colors to go with your brand's style. Imprint your logo on the case to customize.