Health consciousness has been a recurring lifestyle trend over the past 5 years. More and more businesses are getting into the craze with increasing demand for wearable technology to help them achieve their health goals.
Why not use this trend and apply it to your marketing and client relations strategy. This is especially a great idea for brands who work with other health related businesses like organic produce farmers, fitness institutions, and others.
We've been noticing a great demand for health trackers over the past months and we'd like to share a few hot promotional items you'll love. These make for great corporate gifts and employee incentive programs to keep your brand engaged with all the right people.
Check these cool health trackers you can fully customize: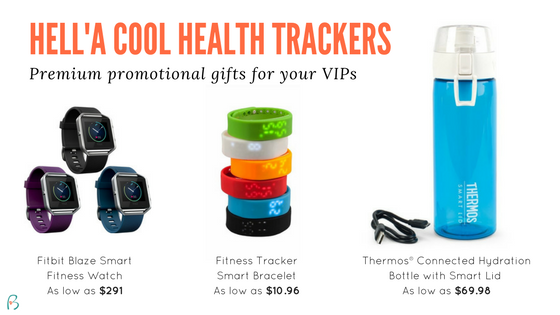 The FITBIT BLAZE SMART FITNESS WATCH is a super premium promotional gift for important clients and business partners. The price point obviously shows how much you value you peeps! This nifty smartwatch monitors heart rate, sleep, workout schedule, your "get pumped" music, GPS, and is water resistant. Customize with our logo with by getting in printed on top of the band or inside the strap.
For a more affordable alternative to the Fitbit, we have the FITNESS TRACKER SMART BRACELET. It functions as a wrist watch, heart monitor, 3D pedometer, temperature, and sleep. Laser engrave your branding to leave a lasting impression.
Help your VIPs stay hydrated by giving them the THERMOS CONNECTED HYDRATION BOTTLE. It measures the intake and temperature of your beverage (not for hot liquids) while tracking and monitoring your daily, weekly, and monthly progress. It connects to Fitbits so you can gift this plus the watch as a set!
Keep sharing the brand love!