Summer is over and the holidays are almost here! It's that time of the year again and everyone will soon be scrambling to find that perfect corporate gift to send to clients or employees. Since everyone is in extra giving mood, putting in more time (and budget) for a business gift is well worth it to set the mood of the last few months of the year.
We've put together some really cool, premium corporate gift ideas you can customize, personalize, and jazz up just in time for the holidays.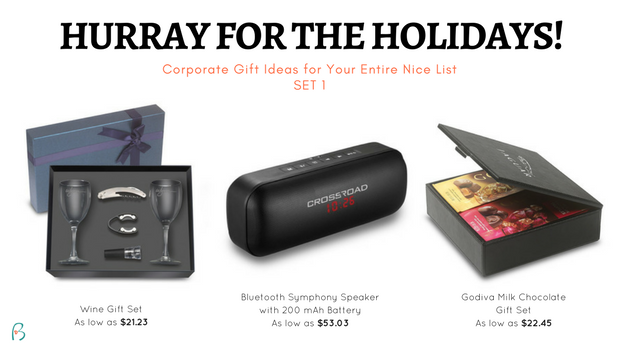 Can't spend the holidays without wine. Get them a customized WINE GIFT SET. Presented in an elegant gift box with a bow on top, this must-have set comes with all the essentials for maximum vino enjoyment, including two 8.5 oz. Nuance wine glasses, a corkscrew, an aerator and a foil cutter. What a perfect gift for the holiday season or corporate incentive to promote increased productivity! Raise a toast to your brand today.
Set the mood with some nice holiday music using the BLUETOOTH SYMPHONY SPEAKER. This superpower 9W RMS powered speaker with time and alarm clock features mobile hands-free communication, digital display, supports TF card play, FM radio, USB, Bluetooth 4.0 and a 2200 mAh rechargeable battery. It's perfect for your corporate management or employee incentive.
Be sweet and give' em sweets. Create a custom package and gift your clients with the GODIVA MILK CHOCOLATE GIFT SET. This delicious gift comes with two 4 oz. packages of Godiva milk chocolate packaged in an elegant leatherette gift box. Add a note and make it a little more personal.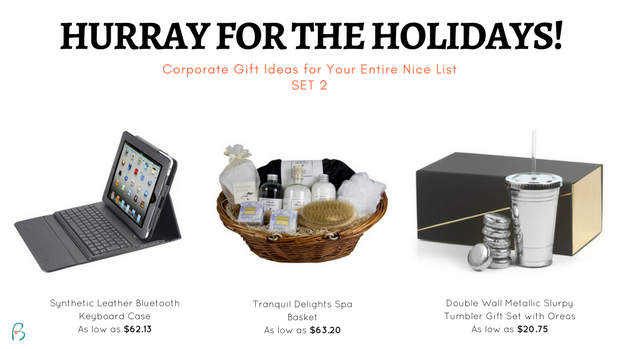 Feed the hungry techie side of the corporate team by giving them the SYNTHETIC LEATHER BLUETOOTH KEYBOARD CASE. This synthetic leather keyboard will turn your iPad into a notebook. The Bluetooth keyboard is removable, making it perfect for carrying with you separately from your electronic device. With your company name or logo imprinted on this electronics accessory you've got a sound marketing tool for your business!
A relaxation gifts basket like the TRANQUIL DELIGHT SPA BASKET is a heavy hitter when it comes to corporate gifts. Indulge in spa luxury with jumbo wicker basket with Cru de Provence 8 oz. Body Wash, 8 oz. Cru de Provence Body Lotion, and 12 oz. Bath Sea Salts. Wash away stress with a bath sponge, two 1.7oz botanical soap bars, and a wooden bath brush/massager combo. Cozy heatable neck wrap will help you to unwind. Tuck the lavender sachet under your pillow and enjoy sweet dreams! Lotion and Body wash have lavender & green tea blend fragrance.
A little sparkle for the holidays is a must. The METALLIC SLURPY TUMBLER WITH OREOS GIFT SET has all the fuzziness and glitter of the holidays. It comes in a customizable box which makes it a wonderful premium business gift for the office.
Is your brand ready for the holidays? Start the planning as early as now!
Let's connect! Follow us on Facebook, Twitter, Instagram, & Pinterest.