The nostalgia of TV shows like Friends and the emergence of boutique coffee shops all over the US has increased the number of coffee-related Stories and photos on Instagram. As a business, you should be seeing this as a huge opportunity to market your products and to reinforce your brand's style and unique selling points.
On top of having a solid product to offer, attention to presentation comes in at a very close second when it comes to effective marketing. Artisan shops know this all too well and the focus on packaging and branding is now a crucial pivot point for a lot of businesses.
We've put together a handful of ceramic mugs that elicit nostalgia, warmth, and comfort that's always associated with a nice hot beverage. Customers will be Instagramming your coffee in no time with these recommendations.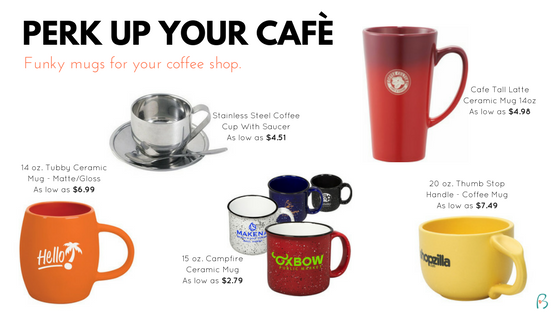 The TUBBY CERAMIC MUG comes in 30 wonderful colors. Choose a single color or go a little crazy and mix it up with several variants. Make it glossy or matte free of charge when you order.
Laser engrave your logo and business name on the STAINLESS STEEL COFFEE CUP. It comes with a saucer and spoon so your customers can stir and sip easily. Coffee and tea shops have been showing a lot of love for this customizable mug.
If you're looking for a rustic-themed mug for your customers to Instagram, try the cute and speckled CAMPFIRE CERAMIC MUG. It works great for tea, coffee, and cold brews. Print your hashtag on the mug for easier recall.
Serve your tall, delicious lattes with the TALL LATTE CERAMIC MUG. The gradient color gives it a distinct look that's a lot similar to your favorite sweet coffee of choice. Choose between color print or a cutting edge laser decorating method.
The THUMB STOP COFFEE MUG is a very cozy-looking mug with an ergonomic design to make the drinking experience easy especially if your customers are ordering larger volumes of their fave beverage. Get it glossed or matte.
PURCHASE WITH A PURPOSE
We'd also like to share that every $100 purchased on any item means 1 vaccine is sent to a child in need care of our partners at the United Nations Foundation. This is Brand Spirit's recent charitable work that began early this year.
Keep sharing the brand love!