Get on the eco-friendly train and add some greenery in the office. While minimalistic, open-space are trending, one study from the American Psychological Association has shown that an office that's too bare and devoid of indoors plants results to 15% more incidents of anxiety and stress among employees.
The study further goes to indicate that when plants were brought into the offices (one plant per square meter) employee performance on memory retention and other basic tests improved substantially.
Given these numbers, investing on a little employee swag that includes desk plants could mean an increased rate of productivity and overall satisfaction in the workplace. This is good news for employees and even better news for the business.
We've put together these adorable and customizable desktop plants you can give away as gifts for the whole office.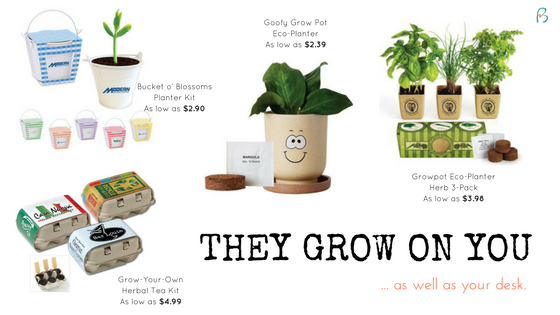 The BUCKET O' BLOSSOMS PLANTER KIT comes in a small pail packaged in pretty pastel boxes. You can add your brand name on the box and the bucket and get them as a 3-pack. The kit includes the blossom seeds and soil pellet too. Just water and 2-3 inch seedlings should come out in a week if you've taken care of it correctly.
Be a little silly with the GOOFY GROW POT. Each set includes a biodegradable planter with Goofy face on one side, a compressed soil wafer and a marigold seed packet. It's made from reclaimed organic materials including bamboo and corn fiber. Just add water and watch it sprout.
Your team might also enjoy their own herbal garden on their desk or in the office pantry. The GROWPOT HERB KIT 3 PACK includes three biodegradable planters, three compressed soil wafers and three seed packets – parsley, basil and chive. Fresh herbs, anyone?
GROW-YOUR-OWN-HERB KIT contains 3 packages of seeds with other variations and combinations, starter soil, and wooden plant stakes, all inside a recycled 6 count egg carton. Write on the wooden stakes, to identify the seed type in each compartment. You add your brand with the paper band that's used to package the kit.
For more information on these promotional products, email info@gobrandspirit.com today.
Keep sharing the brand love!