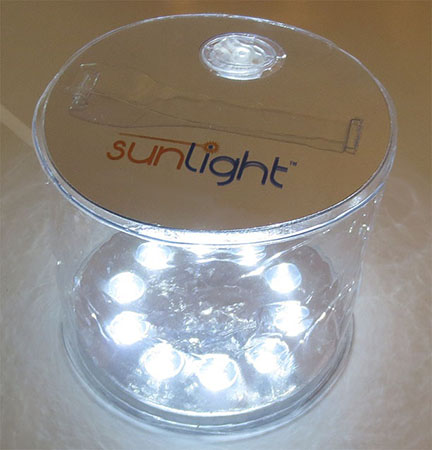 Solar powered products growing in popularity now that there are more affordable and highly functional options on the market these days.
This custom logo imprinted super bright lantern with 10 LED lights is one of the coolest solar powered light sources available today.  Not only is it a powerful light source, it also adds a glowing ambiance to outdoor places.
This promotional eco-friendly lantern makes for an awesome branded logo business gift and is perfect for use when camping, outdoor parties, boating, fishing, emergencies and many other purposes where non-electric light would be useful.
When it comes to traveling, this sun powered lantern is designed to be highly portable.  It starts off completely deflated.  The user blows air into it to inflate the lantern to it's full size. Since it's full of air, it also floats on water and is water proof as well.
A custom logo can be branded on the top panel giving excellent branding exposure. These solar lights are great gifts for the holidays, travel gifts, eco-friendly gifts and just about any other gift giving occasion.
Click here for additional product images and ordering information.