Corporate and business gifts need to have more value than the usual giveaways. These gifts are going to people your brand has a relationship with or is trying to build one with. Drinkware are popular corporate gifts because they're practical, easy to customize, and they come in so many variants that allow you to express your branding.
We've put together some of the latest tumblers that not only look fantastic with your logo, but have also been designed with great technology to make anyone's beverage consumption a lot easier for travel and temperature control.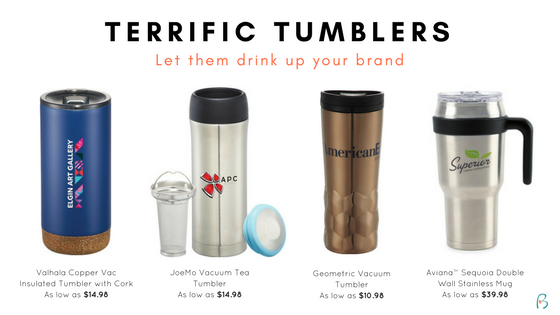 The VALHALA COPPER TUMBLER has a cork bottom to prevent slippage and scratching your your work table. It's also vacuum designed and insulated, making sure your coffee or tea is kept warmer for longer. The matte finish has a very premium look that's perfect placement for your logo.
If the people you're gifting don't drink coffee, then the JOEMO VACUUM TEA TUMBLER is the way to go. Your business partners will love the inclusive tea basket and leak-proof lid feature. They'll be steeping and sipping on tea with your brand wherever they are.
The GEOMETRIC VACUUM TUMBLER is a wonderfully designed tumbler with a cool grip and matte metallic finish. If a premium look is what you're after, then this drinkware is for you. Like the others, it has a vacuum feature and spill proof lid with multiple printing options to get your logo on the tumbler.
Now, if you really have the budget to spare for corporate gifts, especially if you're looking for items for VIPs, then choose the AVIANA SEQUOIA STAINLESS STEEL MUG. The handle is certainly an added convenience during travel. The mug also comes with it's own straw so they can sip away on their fave drink!
Ready to sip on some good client relations? Keep sharing the brand love!