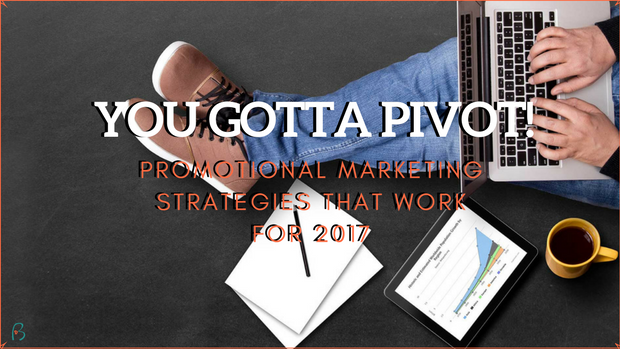 2017 came by so quickly and we're now in the fourth quarter. We've seen new product innovations, consumer behavior shifts, and have had the opportunity to work with diverse businesses in thriving industries all across the country. As a forward-thinking business, have you been able to successfully pivot keep up with the trends and work in the right strategy for your brand's goals?
By working closely with our clients, we've been able to put together 3 important findings when it comes to formulating the correct marketing strategies that really work and lead to better awareness, conversion, and loyalty from a specific target audience.
TECHIE GIFTS ARE HERE TO STAY
Customers don't just want technology related products but they NEED it. These promotional items are multifunctional, convenient, and a heck'a lotta fun! According to ASI, customers put a premium on function and will form stronger connections with brands that give them practical and useful gifts–and they actually keep it for as long as it works. This means you get the bang for your marketing buck and maximize brand exposure.
2. NO SCROOGING ON THE GIFTS 'COZ CUSTOMERS WILL KNOW & LEAVE
People appreciate quality now more than ever. They can tell if something is cheap just by the look alone. From our experience, businesses that spend a bit more for high-quality promotional items, like computer backpacks, has proven more effective for generating buzz and gaining customer loyalty. People want a quality gift that they'll actually use for a longer period of time. Universities, sports teams, banks, realtors, and fundraising groups have realized this and have begun allotting their budgets to more high-value gifts.
3. CORPORATE APPAREL THEY CAN WEAR AFTER HOURS
Promotional apparel has been experiencing a shift, and while Polos and basic shirts are still main stays at trade shows, the need for more functional and fashionable apparel will be greatly appreciated by current and new clients or employees. Performance and retail branded apparel (such as Patagonia and Nike) used as corporate casual wear and employee uniform have been two of the top-selling categories since the start of the year.
With these in mind, it's important that when planning your marketing calendar and strategy, you answer 3 things:
Will customers need it?
Will they keep it for a long time?
Does it represent my brand?
Ready to make a game plan?
Let's connect! Contact us or Follow us on Facebook, Twitter, Instagram, & Pinterest.