Power banks are crowd favorites at trade shows, conventions, and in the work place. Everyone needs that extra juice for their device on-the-go and these promotional power banks are the Ferraris of power banks.
Get the most of your brand promotion with these super powered custom gifts. They're so much more than just an emergency power supply for your phone.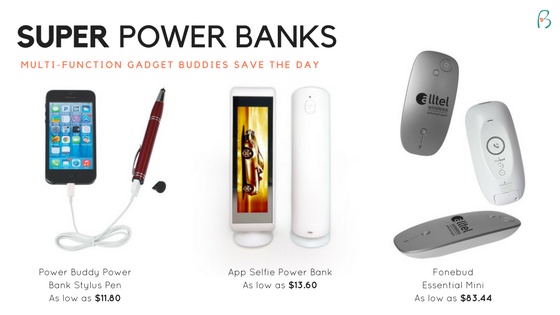 The POWER BUDDY POWER BANK STYLUS may just have a 1000 mAh capacity, but it packs a punch in multi-functionality because it also doubles as a stylus for tablets and smartphones. That's, of course, on top of being a regular pen for note-taking.
A step further from the pen-power bank is the APP SELFIE POWER BANK. It's 2200 mAh of power with a Bluetooth camera remote controller compatible to almost any device. In addition, it has a nifty suction cup at the bottom so you can easily attach it to a flat surface while charging and browsing.
Finally, the daddy of all promotional power banks is the FONEBUD ESSENTIAL MINI. It's a Bluetooth speaker, a remote camera controller, a torch light, and a power bank. Whew! This is definitely a great corporate gift for VIPs or an incentive program giveaway for employees.
Power-up your brand promotion with these fabulous gadget accessories.
Let's connect! Follow us on Facebook, Twitter, Instagram, & Pinterest.