We often look forward to the holidays but it can also be a stressful time. With many businesses rushing to close the books for the year on top of other daily concerns, the chaos of the season calls for gifts that also help calm the mind and sooth the spirit.
What better way to show thoughtfulness to your clients' well being that luxe spa gift sets that can take with them during travel, or little personal care treats they can use at home during their down time. Here are fabulous spa gift sets you can explore for your holiday business gifts.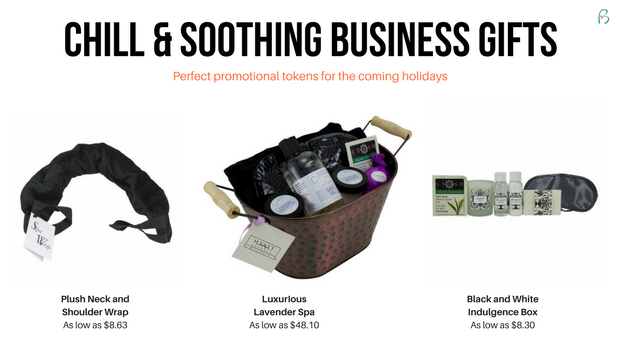 The plush neck and shoulder wrap is a great employee appreciation gift, holiday gift or even a thank you gift for nurses/doctor's/hospital week. The warm, moist heat applied to the neck and shoulders or back is soothing and relaxing, and provides relief to tired muscles. The wrap is packaged in an imprinted case with an instruction card tied to the wrap. It's affordable, useful, and under $25 (which is the usual limit to business gifts.)
The Luxurious Lavender Spa Set is reminiscent of a beautiful hammered copper bathtub. The 10″ tub is filled with our most loved spa products including a plush gel sleep shade and luxurious plush heat-able neck wrap, moisturizing natural lavender bath bomb, nourishing 2 oz lavender shea butter, 8 oz lavender body wash, 2 oz lavender foot soaking salts, and an Organic Lavender Tulsi Stash tea packet. This luxurious gift set is sure to please even the most discriminating tastes. The Spa Set is shrink-wrapped.
Black and White Indulgence Spa
The black and white damask patterned gift box with a custom branded label holds an array of soothing bath and body products decorated with coordinating labels to create a cohesive, retail look. The gift set includes a 1 ounce relaxation hand and body lotion, 1 ounce relaxation body wash, 3 ounce relaxation soy candle, 1.25 ounce glycerin soap bar, black sleep shade and an herbal tea packet.
Let's get started with your holiday premium gifts shall we? Contact us or Follow us on Facebook, Twitter, Instagram, & Pinterest.