Looking for a fun, low cost giveaway item that will stand out on desktops? The Super Snazzy Swanky Set is just the right promotional product, especially if you are looking for low-budget office items. This pen highlighter combo giveaway is an attractive looker and will serve as a great addition to desks. Users will find this set useful to jot down notes and to highlight text they can get back to later.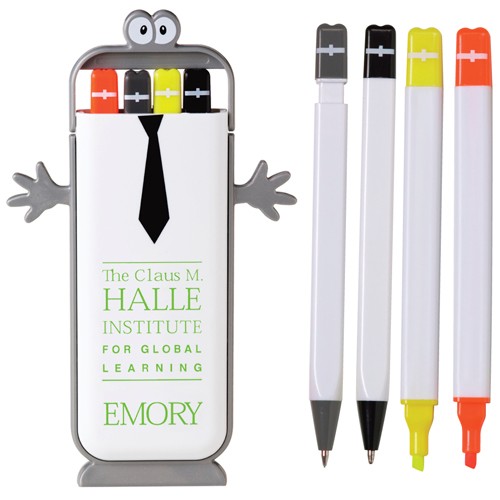 A handy giveaway at offices
This writing set can be distributed among your employees and clients. Its' silly look will be sure to capture plenty of eyes on your company information.
Each Super Snazzy Swanky Set contains the following:
• An orange chisel-point highlighter
• A yellow chisel-point highlighter
• A refillable mechanical pencil
• A click-action ballpoint pen made of ABS plastic (featuring a smiley face billboard)
Available at bulk individual pricing that ranges between $2.98 and $3.95, this unique fun promotional highlighter kit is a worthy addition to marketing campaigns. Order today or contact us for additional information or to request a sample.