Is your business targeting millennials? If you know this market, you know that they love their gadgets. They travel, work, and socialize with their phones and computers a majority of the day. Put your brand in their line of sight by customizing and placing your business name on these awesome tech accessories for laptops and mobile devices.
These promotional tech accessories work perfectly into the daily routines of millennial, which means your brand will be with them throughout the day. We've put together a swag bag for the week your customers will love.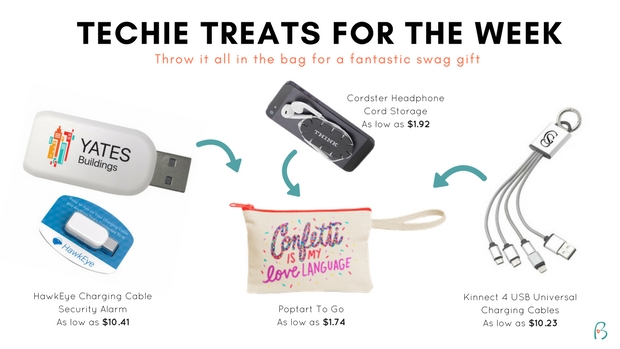 Keep an eye on your device with the HAWK EYE CHARGING CABLE SECURITY ALARM. This is the perfect gift for customers who always work in coffee shops or are constantly traveling, having to leave their devices plugged in. Attach this device into the USB port, turn it on and trigger an alarm if anyone tries to unplug your gadget while you're away. Users can also activate a feature that triggers a sound to avoid leaving your chargers in outlets.
Add the CORDSTER HEADPHONE CORD STORAGE to help keep earphones and cables organized. It attaches to your phone's case with a non-toxic adhesive that doesn't leave a residue if they decide to take it out. Add your logo to customize.
Most people have multiple devices they take with them everyday. Throw in the KINNECT 4 CHARGING CABLE into the swag mix to help customers connect and charge multiple devices at once. Hook this nifty little accessory to your bag with the carabiner ring.
And as a bonus, give customers a cute pouch like the POPTART TO GO to keep all these wonderful gifts nice and tidy in their bags. Embroider your logo or imprint your business tagline to personalize.
Let's connect! Follow us on Facebook, Twitter, Instagram, & Pinterest.