Virtual reality and all its wonders has seen a steady demand in the marketing scene. Businesses, even the non-tech industries, have realized and embraced its potential as a tool to engage audiences and potentially increase sales.
The 2017 CES trade show reportedly saw the largest array of augmented reality (AR) and VR technology ever, with 271 exhibitors from the AR/VR space, out of a total of more than 800 from 150 countries. What we should learn from this audience behavior is that people want experiences rather than just giveaways from your booth. While small tokens and SWAG bags are effective, going the extra mile to give them something new–something that'll make an impact for your brand, is worth developing into your growth strategy.
The real estate industry has started using VR and AR to showcase listings without having to take potential buyers from one property to the other. Big brands like Nike, Samsung, and Mercedes Benz have certainly explored different facets of VR that have resulted in great sales numbers last year. You can read up on their campaigns here.
So if you're asking, "Does VR actually work for brand awareness and sales growth?" All data point to a resounding YES. So it's time to kick it up a notch!
Here are cheap VR headsets/goggles or viewers you can try out: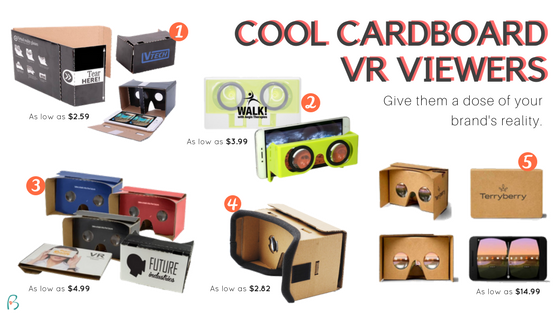 VR Viewer 1 is compatible with almost any smartphone. The user can assemble the unit or you can do it for them. Note that you need to pair this viewer with an app. The list is available in the instructions.
VR Viewer 2 is mostly made of plastic and has a mobile device holder for convenient viewing. An app is also needed to maximize its features.
VR Viewer 3 is a big seller because of the options to place you branding. You can have a full image printed in front. It's light, easy to assemble and comes in different colors to showcase your brand.
VR Viewer 4 is one of the cheapest items from our recommendations. It's a very DIY and eco-friendly product with a foam viewer lining for better comfort. It's great for 6-inch smartphones and can also be used for 360 videos and photo viewing.
VR Viewer 5 is a little more pricey than the rest but you don't need an app for it since you can have it set-up to show your specifications. It also requires minimal assembly and very sturdy despite being made from cardboard. A sure hit for your audience.
For trade shows and product promotion events, you have a range of options for VR-related items that can supplement your current strategy for your booth or exhibit. The great thing here is that you can easily customize and brand these promotional marketing products to use as gifts.
There are also a lot of options for more high-end VR goggles and headsets to pair with a specific digital visuals. All these are also available from the website and can easily be customized with your branding.
Keep it real and share the brand love!