Marketers are always on the hunt for unique ways to promote their brands to new and existing customers. Water bottles are one of those products that you can never go wrong with as they have a high perceived value and will get plenty of use by people of all ages. But why give a product that is plain or not very interesting when you can give a promotional water bottle that really stands out.
There are so many custom branded bottles with unique designs, bright colors and other interesting design elements. Featured here are a few of our favorite new styles.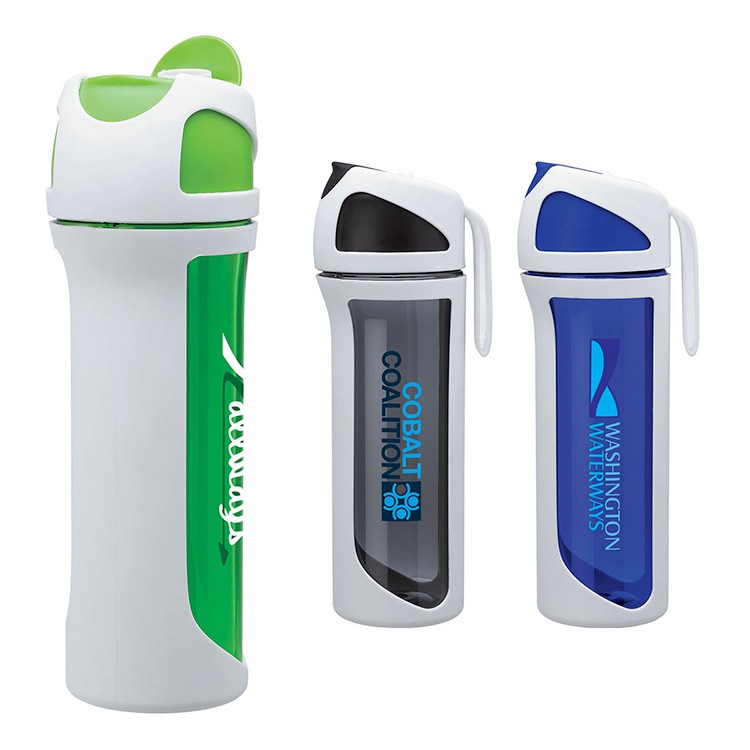 This 20 oz. Tritan Water Bottle has a creative design element we've never seen in a promotional water bottle before. The body of the bottle comes in a transparent blue, lime green or smoke grey, which is encased in a sporty white outer sleeve. The cut out designs in the sleeve give this bottle a sleek, appealing look. For added functionality, there is a built-in silicone carrying strap. Click here to view additional product information.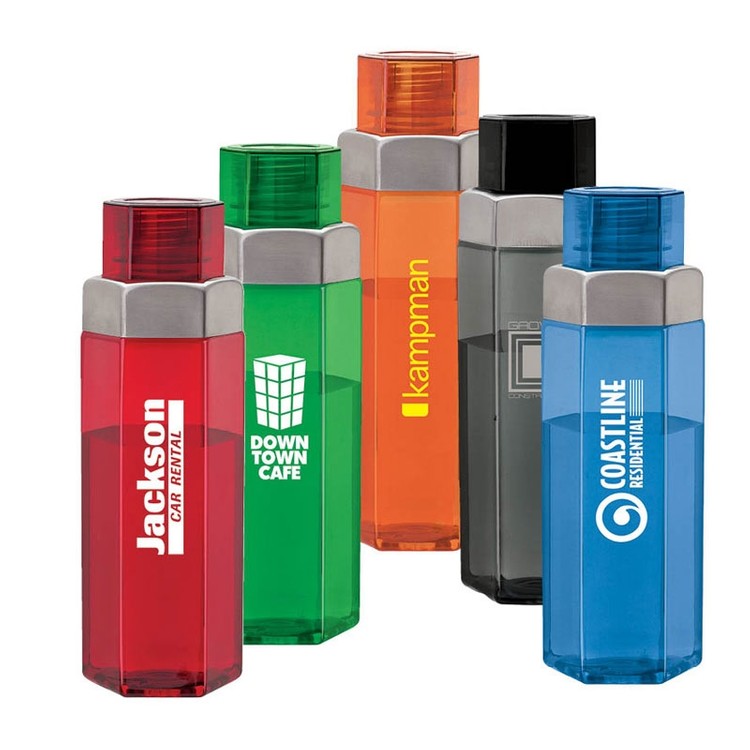 The 6-sided, hexagon shaped water bottle comes with a steel band on top giving it the look of a bolt shape. These would be perfect for use as giveaways and business gifts for industrial companies or construction businesses. These bottles are available in translucent orange, blue, red, green and smoke grey to match the colors of a wide array of brand logos. With a 40 oz. capacity, there is ample room to hold a very large beverage. These are one of the largest custom branded water bottles available on the market today. Click here to request a sample or to view ordering information.
For businesses looking to add a lot of color to their water bottles, these 24 oz. Tritan Stripe Bottles offer a unique solution. Not only are the bottles and lids available in a wide variety of colors, the striped grip colors can also be customized in colors such as: black, blue, hot pink, green, cyan, orange, red, yellow violet, white and lime green. You can mix and match any of the body, lid and stripe colors for hundreds of different color combination possibilities. These water bottles are also dishwasher safe which also makes them incredibly convenient. Click here to view additional product information.
Need more unique promotional water bottle ideas? Click here to view a wide range of bulk branded bottles to promote your company.