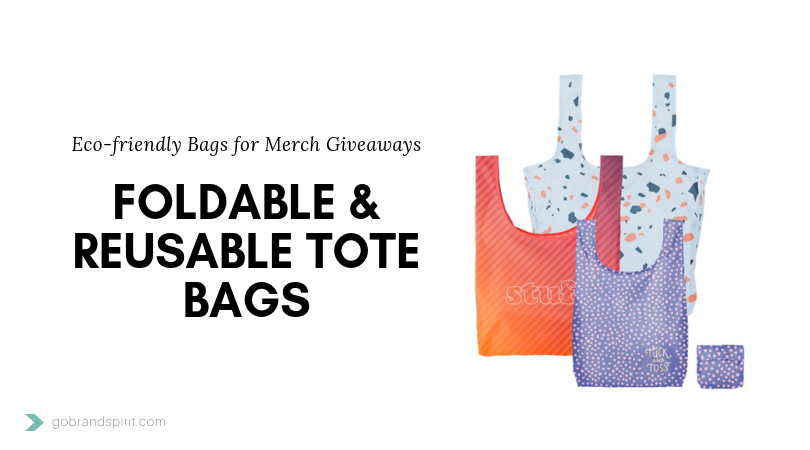 Customize and brand your own business' foldable tote bags! These promotional merch items can be packed and folded into small bags or into themselves for easy storage. Your customers can take the reusable tote bags with them anywhere, making them a really valuable daily essential for the eco-conscious consumer.
Custom foldable tote bags have been used as branded merch and giveaways for:
Non-profit organizations
Groceries / Supermarkets
Retail Stores / Artisanal Stores
Personal Brand Merch (bloggers, influencers, artists etc.)
Campaign gifts
Farmers / Agriculture Marketing
Causes and Charity
Schools
Corporate Companies
The demand for more eco-friendly products like reusable bags and metal straws, experienced a surge this 2019 and it will continue to rise over the next couple of years.
We've put together a list of 6 easy-to-customize foldable reusable tote bags for your next event or brand merch campaign:
The drawstring pouch is attached with a small carabiner so you avoid losing it. This foldable resuable tote is made of lighweight polyester material and is available in 7 different colors. Add a one-color screen print of your business logo.
The full-color sublimation makes these resuable totes eye-catching. They're a step above the usual eco-friendly tote which means they are ideal for brand awareness campaigns. And with the power of social media, Instagram users will certainly find these tote bags photogenic and worthy of a hashtag post. Plan for a graphic design to really make it yours. The same design will be imprinted on the small pouch. Super cute!
It's another full-color custom tote bag that complements a creative and exciting campaign. The pouch is attached to the bag so you never loose it. Your customers will love taking these with them to the grocery, the Sunday flea market, or just a quick errand. PMS-match the bag with your brand colors for an added charge.
Farmers groups, grocery stores, and non-profits can use the fun fruit-shaped design of these foldable totes. Health and fitness brands can also use these collapisible giveaways for their events.
This 9 Oz. Natural Cotton canvas is made of natural biodegradable material. and easily rolls into itself and secured with a snap. Add a one or two color screen print of your business logo.
The entire backpack collapses into one zippered pouch, Large zippered compartment with floating interior pocket, Adjustable shoulder straps for a great fit, Dual side net pockets.
Need more ideas for your own tote bags? Click here to visit our online catalog of more than 300,000 brandable products.
You can also get in touch with us for personalized ideas based on your specific event needs.
Purchase with a Purpose: BRAND SPIRIT IS A CHAMPION FOR THE UNITED NATION FOUNDATION'S SHOT@LIFE. EVERY $100 WORTH OF SALES FROM ALL THESE ITEMS MEANS WE DONATE 1 VACCINE TO A CHILD IN NEED.
No time to shop? We'll shop for you and find the perfect custom gift for your project. Find us on Facebook, Twitter, Instagram, & Pinterest or email us at info@brandspirit.com.