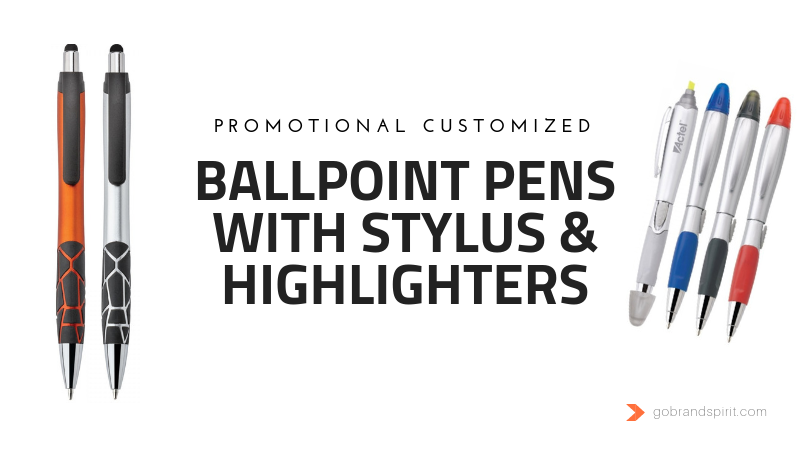 Promotional ballpoint pens are easy giveaways. They're affordable, universally needed, and compatible with any type of business. Add in bonus features like a stylus tip or highlighter and you've got a pretty sweet piece of promotional and marketing tool.
Ballpoint pens make fabulous freebies for:
Trade shows and conventions
Real estate open house leave-behinds
Insurance company giveaways
Government / Non-profit custom office supplies
Fundraiser events
Political campaigns
These promotional pens can be personalized with a logo using varying imprint methods. Here are personalized pens with add-on features.
What makes this promotional pen special is the shiny laser engraving imprinting method for your logo. The look of the metallic-like imprint gives these pens a premium look, making it an affordable alternative corporate gift or swag item.
Ophelia is more than just a pen/stylus. It's a light up pen with an illuminated backdrop to proudly show off your logo! Laser engrave Ophelia's matte metallic silver plastic barrel and with a firm press on the stylus. Your logo will be illuminated by an inner light matching the color of the rubberized grip.
It's a modern pen with a cool look and design. This pen/stylus comes in cool metallic colors, each with a rubber grip detail for ergonomic writing. Screen-print a one-color or multi-color logo imprint on the barrel. The stylus is compatible with most smartphones and tablets.
The highlighter colors match the trims except for the satin silver or black trims which have yellow highlighters. Great for your sales team, for students, trade show goers, and more! Silkscreen your logo on the barrel near the clip.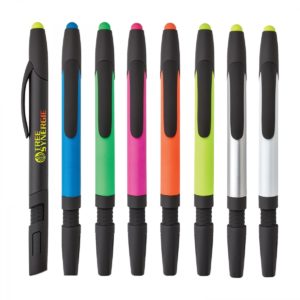 Bright neon colors contrast with black rubberized trims on the multi-functional Memphis 4-in-1 pen. With its matching color stylus and highlighter (yellow ink for the black, white and silver barrels) and SureWrite ballpoint ink, the Memphis can be used on a touch screen or on paper. Take a break from your notetaking and use its integrated stand to watch videos on your smartphone.
Need more ideas for your own writing instruments? Click here to visit our online catalog of more than 300,000 brandable products.
You can also get in touch with us for personalized ideas based on your specific event needs.
Purchase with a Purpose: BRAND SPIRIT IS A CHAMPION FOR THE UNITED NATION FOUNDATION'S SHOT@LIFE. EVERY $100 WORTH OF SALES FROM ALL THESE ITEMS MEANS WE DONATE 1 VACCINE TO A CHILD IN NEED.
No time to shop? We'll shop for you and find the perfect custom gift for your project. Find us on Facebook, Twitter, Instagram, & Pinterest or email us at info@brandspirit.com.