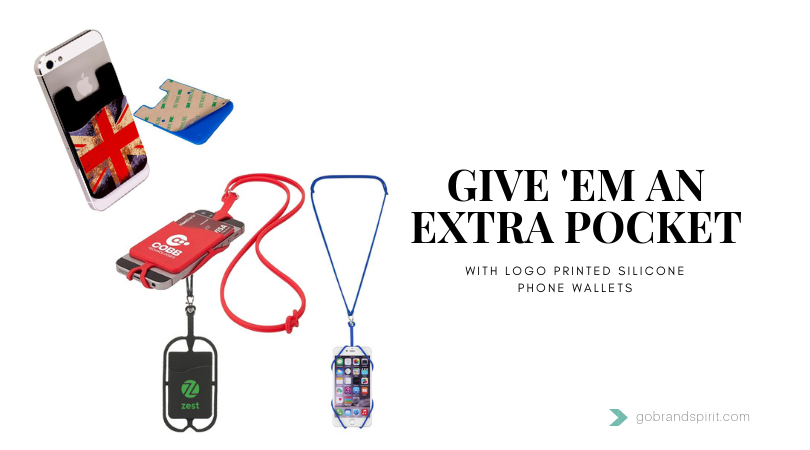 Silicone phone wallets with adhesives to stick to the back of your cellphone are some of the ol' reliable promotional products that almost everyone enjoys getting.
Bulky wallets can be a hassle and sometimes, customers just want to travel light. These logo printed phone pockets can carry cash bills, credit cards and IDs so you won't have to take your entire wallet with you. They're light, thin, durable, and cheap giveaway options that work well for:
Trade shows
Conventions and corporate events
Incentive programs
Corporate giveaways
Branded merch for tech companies
Banks, finance, or insurance marketing
If you want a fail-safe type of promotional gift, these rubber-like silicone phone accessories are fabulous finds even for small marketing budgets.
Get full-color printing of a cool graphic with the iWallet.
It's an effective attention-getter that gives your business more freedom to get creative with a full-color direct print on the silicone phone wallet. The 3M adhesive ensures that it stays on the back of your phone and will cleanly come off when you take it off. You can even get a PMS matched color on these phone pockets.
Tell your brand story with a spot on colored imprint on the super cheap but quality Custom Silicone Phone Wallet that ships from overseas.
This is a fabulously cheap option that will be perfect for large orders and events such as trade shows or national conventions. Pull off a fantastic incentive program over a span of time with a bulk order of these logo printed silicone phone pockets.
Need your promotional iWallet shipped in 24 hours? The Roadrunner Silicone iWallet is the little guy for your business.
Comes with 3M adhesive that sticks to the back of any smartphone (iPhone, Droid, Blackberry, etc) without leaving a sticky residue when removed. It ships domestically and securely holds credit cards, drivers license, cash, hotel keys, business cards and more.
The Magnetic Auto Phone Holder with Phone Pocket comes with something extra!

Pocket features an adhesive that sticks to the back of your mobile phone and an integrated magnet for attaching to your car stand. Attach phone pocket to your device, insert slide and attach back of the round magnetic panel to your auto air vent and to mount just place silicone pocket on the magnetic panel. This is perfect for automotive marketing and other types of dealerships.
This silicone lanyard phone holder has a credit card pocket to secure your phone and your cards around your neck. It's a lanyard perfect for traveling, vacations, or even concerts. These items also provide a great imprint area.
Fold the flaps to create a stand for your phone. The built-in pocket perfectly carries your IDs and cards wherever you're headed. Add a one-color logo of your company and add it to your giveaways!
Need more ideas for your own cheap trade show swag? Click here to visit our online catalog of more than 300,000 brandable products.
You can also get in touch with us for personalized ideas based on your specific event needs.
Purchase with a Purpose: BRAND SPIRIT IS A CHAMPION FOR THE UNITED NATION FOUNDATION'S SHOT@LIFE. EVERY $100 WORTH OF SALES FROM ALL THESE ITEMS MEANS WE DONATE 1 VACCINE TO A CHILD IN NEED.
No time to shop? We'll shop for you and find the perfect custom gift for your project. Find us on Facebook, Twitter, Instagram, & Pinterest or email us at info@brandspirit.com.