Say it with chocolates! The holidays are upon us and as a business, you should already be gearing up to giveaway this year's gifts. Chocolates make fabulous and delicious business gifts for the holidays. Once you make sure your clients aren't allergic to chocolates or the add-ons that go with them, then you'll love these gift sets that are easy to personalize.
Here are three options you and your clients will love.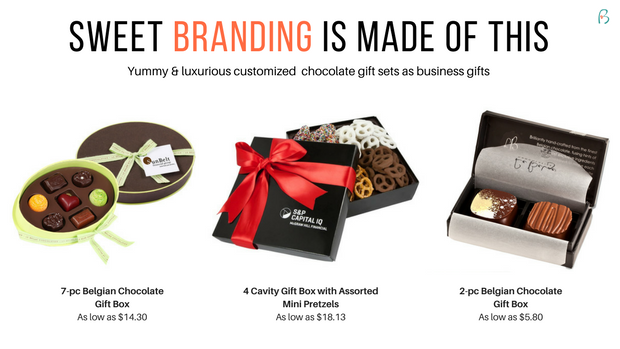 7-pc Belgian Chocolate Gift Box
This sublime chocolate gift box is perfect during the holiday season! It makes for an excellent corporate gift. This Belgian chocolate gift box is filled with a random assortment of Belgian chocolate confections in a variety of flavors and artisanal textures. These delicious sweet nuggets were specially prepared by a chef chocolatier to make sure you get true chocolate luxury. Truffles are created using pure infusions complemented by a unique European chocolate layering technique.
4 Cavity Gift Box with Assorted Mini Pretzels
Four different gourmet confections for the discerning palate and 4 different types of pretzels for the ultimate pretzel lover. These will make fabulously delicious holiday gifts or corporate tokens for any type of business. Pretzels include: Plain Mini Pretzels, Chocolate Covered Mini Pretzels, Yogurt Covered Mini Pretzels and Rainbow Nonpareil Mini Pretzels. It's also Kosher certified.
2-pc Belgian Chocolate Gift Box
An elegant party favor for weddings, conferences, table favor for your next sales meeting or thank you gift. These delicious desserts are brilliantly crafted with an artistic blend of pure Belgian chocolate and the latest flavor trend, making it distinctive and exceptional. Add your company logo or message for the perfect client gift or holiday gift idea.
Let's get those business gifts ready!
Follow us on Facebook, Twitter, Instagram, &  Pinterest for more holiday gift ideas for your brand.