People use their phones everyday. They use it to look for places to eat, communicate, and update their friends using social media. The phone is basically an everyday essential.
What better way to make a connection with your trade show attendees than offering up some cool, trendy, and very useful phone accessories? Here are some of the hottest promotional products your brand can customize.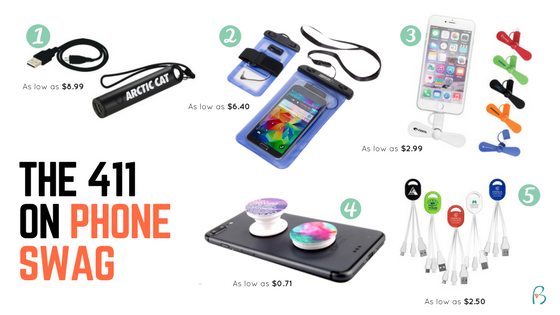 Bean Flashlight and Power Bank – multi-function swag items make good giveaways. This handy little power bank is built with a flash light with 5000 mAH of power storage.
Waterproof phone case – Add your company logo on the plastic zip of or the lanyard, or go wild and make it both! This is an awesome swag item for an audience that loves the outdoors or for those who just want to keep their phones safe from dust and water.
USB Phone Fans – These are certainly novel swag items that are perfect for the summer. Just plug it in and stay nice and cool. Choose from different colors and make sure you strategically place your logo.
Pop Socket Stand – Another multi-function promotional product that's a good opportunity for fun and quirky designs by your brand. As the name implies, it pops out and turns into a phone stand for hands free use of your device and it also doubles as a cord wrap to keep your earphones from getting tangled.
2-in-1 Charging Cables – Power up Android or iOS phones. Their perfect for travel and the office. Choose from several colors!
All these items are available at gobrandspirit.com!