Tailgate season is here. This is one of the best times to get your brand noticed and seen by over thousands of people.Tailgaters watch the games with friends and family in a happy party vibe. Barbecues and chilling at the back of a pick-up or trailer are a common scene during these events and this is the perfect time to give away promotional products they'll need to continue with the fun.
We've put together these tailgate essentials you can easily customize with your business logo and your branding.
The PREMIUM STRIPE CHAIR is the perfect folding chair for that tailgate party. It can hold 300 lbs. with padded back seats and panels for comfortable seating during down time. The mesh pocket is a perfect nest for that cold beer and it has a conveniently attached bottle opener. What's not to love?!
Make eating outdoors an easy experience when you're camping or tailgating using the PRIMUS CAMPFIRE PLATE. It's durable, easy to clean, lightweight, and doesn't absorb food odor, which is great when you don't have immediate running water. CerMark your logo at the bottom to customize.
Keep all of your food fresh with the COOLER TRUNK ORGANIZER. It holds up to 20 cans on top of you food containers and other edible items. Place your logo in the front or back pocket via imprint or embroidery.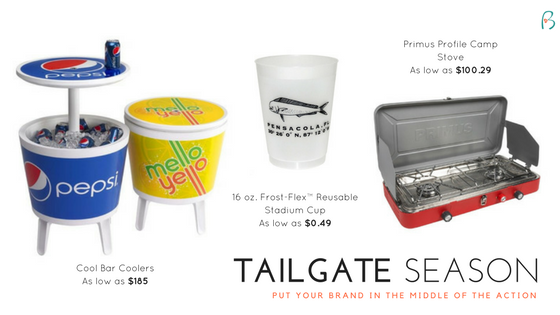 Keep those beer and soda cans icy cold with the COOL BAR COOLERS. You can fully place your brand colors and logo and wrap it around the cooler for full exposure. This double-walled cooler serves as an attractive side table for thirsty tailgate goers. The unique locking system ensures stability when table is extended. Drainage hold with stopper empties the cooler easily. Crafted of thick, all-weather plastic.
Choose eco-friendly cups. The FROST FLEX CUP is reusable and BPA-free. This textured cup is the staple of the promotional products and barware industry. The plastic cup is perfect for the beach, sporting events, tailgates, weddings, festivals, giveaways, and social activities!
Finally, what's a tailgate without barbecues and burgers? Take your marketing to delicious heights with the PRIMUS PROFILE CAMP STOVE that's ideal for events such as this as well as camping. Profile stoves' high-output burners and exact simmer control deliver the utmost performance, while easy-click ignition and lock and carry handle makes for the ultimate in portability and trouble-free use.
Is your brand ready to take on the action and excitement of tailgate season?
Email info@gobrandspirit for order inquiries.