We've all had that mini heart attack. Your phone slips from your fingers, crashes on the floor face down and you hold your breath for a few seconds to find out if it's broken or not.
Spare your customers from this nightmare and surprise them with a thoughtful but super affordable phone grip. Everyone has a phone and this device stays with us from the moment we wake up until we go to bed. This is the perfect spot for your logo to sit and it will remind customers and their friends about your brand each time they take their mobiles out.
Here are three trendy phone grips that are practical, customizable, and all under $5!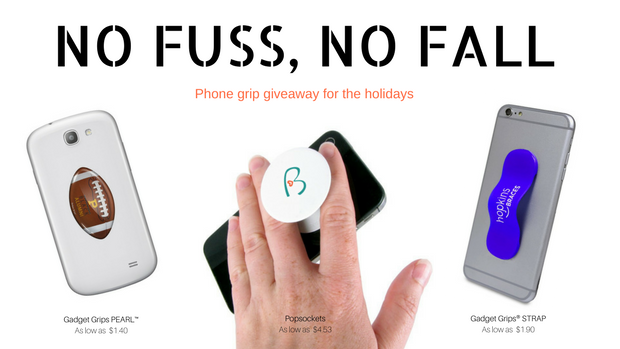 The Pearl sticks to the back of cell phones and tablets using removable adhesive, allowing the top surface of the grip to keep your phone & gadgets from slipping and sliding. Packaged in cellophane bag with distinctive instructional booklet. Perfect as trade show giveaways, civic events, school fundraisers, rock concerts.
A PopSocket sticks flat to the back of your phone, tablet or case with its reusable, repositionable gel. Once extended, the PopSocket becomes a media stand for your device, a photo or texting grip, or lower it for a video chat. It doesn't get in the way when you keep your phone inside your pocket so it's design will surely be hit.
Simple and effective! The Gadget Grips® STRAP makes it easy to secure your phone to your hand. Simply place the strap on your phone and slip your finger under the strap. It comes in a variety of colors to complement your brand's style.
Let's get started with your giveaways! ? Contact us or Follow us on Facebook, Twitter, Instagram, & Pinterest.