Bluetooth speakers are great. Waterproof wireless bluetooth speakers are even greater. These charming little gadget accessories have been flying off trade show booths since last year and brands have been customizing them and gifting customers and even employees since its boom.
Everyone enjoys singing in shower or chilling by the pool with good music and these are fantastic companions for those moments. Here are some of the best trade show grade waterproof bluetooth speakers in the market.
These would also make superb corporate gifts because they're price points are at a premium and it certainly shows your brand VIPs that you value your relationships with them.
We've listed them below with links to where you can order and customize them for your next event.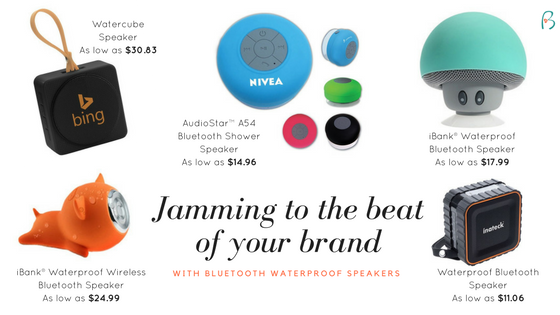 The WATERCUBE SPEAKER has a silicone rope so they can hang on the shower or just wrap it around your wrist while floating around the pool. You'll get 3+ hours of playtime thanks to the built-in 600 mAh rechargeable lithium battery.
One of the best-selling promotional item on our list is the AUDIOSTAR A54 SHOWER SPEAKER. Placement of your brand logo is very visible which makes great marketing real estate. It comes in different colors so you can express your brand's style any way you want. It's rechargeable and surely makes showering so much more fun.
Trade show goers love seeing adorable promotional products and the two iBank speakers on our list are the perfect examples. They're cartoony design appeals to a young audience and they also make great employee gifts for company events. The MUSHROOM iBANK WATERPROOF SPEAKER has a suction feature so you can stick it anywhere in the shower stall. The PIGLET iBANK WATERPROOF SPEAKER gives you big sound for music, videos, and games and can last for 3 hours.
The SQAURE WATERPROOF BLUETOOTH SPEAKER is a more affordable variant. Customize by placing your logo right smack in the middle of the speaker. It also comes in red, blue, yellow, green, and purple.
For order inquiries on these promotional products, email info@gobrandspirit.com.
Share the brand love!